The Evolution of Patient Engagement Toward Access, Efficiency, and Empathy
As our ability to treat patients increases, so does the complexity in patient engagement.
By Tom Mathews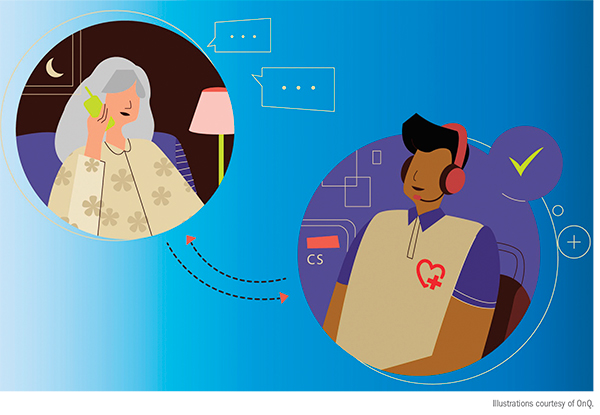 Ask three different patients what they want when they engage with their healthcare provider, and you'll likely get three different types of answers:
"I want to talk directly to the provider for clinical treatment and the office if I have a question."
"I don't want to waste my time waiting for the appointment, in the lobby, getting information or test results."
"I would like to feel as though they care about me."
In evaluating patient access and engagement, it is important to begin by looking at two specific elements:
The channels available to engage with patients.
The different stakeholders' objectives within that engagement.
Below is simplified view of these stakeholders and their primary objectives.
We begin with the patient. The patient wants a quality healthcare experience with minimum administrative burden.
Next we look at the physician or care provider. The provider wants to provide the highest level of care, focusing exclusively on clinical efforts within their area of specialty.
The hospital or health system wants to ensure a healthy patient population while minimizing costs to ensure corporate stability. The labyrinth of administrative and financial requirements to support inpatient and satellite facilities is expensive and burdensome.
The private insurance company is focused on profitability, which is aligned with a healthy patient population. To ensure profitability, strict medical necessity protocols are put in place along with documentation requirements to support CPT and ICD codes that, in turn, drive the amount reimbursement for physicians.
It is important to recognize that each stakeholder has a role in the interaction and potentially a different primary objective. But each one overlaps with the desire for the best health and outcome for the patient.
Next we look at potential channels for engagement. Today, healthcare organizations have a variety of ways they can engage with patients, including patient portals, email, chat (including chatbots), interactive voice response systems (IVR), text, website, and, of course, call centers. Each has a place and a value.
For example, a patient might appreciate getting a text with an appointment reminder and directions to a facility, but text is not an appropriate communication for delivering clinical results or information.
A portal is a convenient method for presenting and maintaining patient information but is not necessarily proactive in driving engagement.
As this article is focused on direct patient engagement, the emphasis will be on live patient interactions through the patient services call center.
A Complex and Changing Healthcare Environment
Call centers have been around for 70 years. Call centers allow businesses to leverage technology in order to maximize use of their most expensive resource: people.
Outside healthcare, technology exists that can tap into inventory and scheduling systems, thus promising a fully automated customer experience. To be sure, the temptation of an efficient technological solution that minimizes reliance on people is often more than companies can resist.
A simple calculation based on price per call of an automated solution versus a trained human at a contact center is performed and, bingo, the math dictates automation.
But where does that leave the patient in a complex and changing healthcare environment?
Anyone who has called a big-box retailer trying to speak with a live person is sadly familiar with the frustration that comes with being prompted through a meandering maze of "press 1 for this, press 2 for that …"
If the information required by the caller is not an option, the caller is directed to the website. This becomes challenging when wanting to know if a product is in stock, and it's frustrating beyond belief when related to your health or unexpected medical bills.
Many patients reaching out to their healthcare provider want to complete a simple task like scheduling an appointment or paying a bill. To perform these tasks, patients will accept, or may even appreciate, a technological access point. It may well be easier to pay your bill through an IVR system.
But what about more complex situations? Take the patient who met with their doctor, perhaps had some imaging work done, requires a follow-up visit, receives a bill and a complicated EOB referencing doctors they never met with (like a reading radiologist or pathologist), and is now navigating some form of disease management, be it diabetes, coronary artery disease, or cancer. All are intensive healthcare scenarios.
It is in all stakeholders' interest to follow up to each of these tasks individually and satisfactorily. Here, the patient experience can either become a reflection of our complicated healthcare system or it can be streamlined to achieve everybody's objectives: the patients, the providers, and even the payers.
In any business, it is critical to know your customer. The biggest consumers of healthcare are those aged 65 and older. By necessity, healthcare executives have become more reliant on technology to meet the rising costs and demand for services of an aging population.
Accordingly, that creates a significant gap between healthcare company's business choice to leverage technology and the average consumer's trust and comfort with technology. Simply put, many older patients are not comfortable entering their credit card information into a computerized credit card system, much less discussing their health conditions with an IVR system.
Meeting the Patient Where They Are
So, how does our industry leverage technology while maintaining compassion and ensuring a focus on providing the highest level of care? Many administrative tasks can be handled through an automated solution.
In those instances requiring human intervention (dictated by patient choice or complexity of the situation), a positive patient experience starts by providing easy and direct access to a well-trained human being.
Many call centers establish a connection with the provider's billing system, allowing them to review and act on relevant financial information. A well-trained agent can explain to an elderly patient a complex EOB or why that patient received a statement for a radiologist or pathologist they never actually saw. And that will frequently result in single point of contact collection for services provided.
Anyone that has worked in revenue cycle for any significant amount of time knows how challenging it can be to collect patient funds, so it is essential that the organization capitalize when afforded the opportunity.
Looking back at our example, with one call the patient now understands and has paid their bill. If the call center agent has access to scheduling data and systems, that same agent can then complete the scheduling process.
The Role of Technology
But what of the clinical aspects of this patient engagement?
It will never make financial sense to have a clinician answering questions about billing or scheduling—and a call center agent is not the right person to delve into the clinical aspects of patient engagement.
This is where technology can play an important role. Forward-thinking organizations are utilizing technology in the form of robotic process automation (often referred to as bots or RPA) to improve the patient experience and increase engagement at the point of interaction.
Being a patient services call center agent is challenging. It requires significant training and the right demeanor to be successful. Asking a call center agent to assess and explain detailed billing information, navigate scheduling requirements and systems, and then search out clinical information in a medical record is a tall order.
However, leveraging bots as a tool for the agents to collect clinical and demographic information for scheduling purposes and to present to clinicians for preventive care and disease management purposes allows call center agents to perform high-value actions for the patient, which dramatically improves engagement and satisfaction.
Searching this information manually is time-consuming and prone to human error, but technology can do it quickly and efficiently and present in a way to improve the patient experience.
Administrative tasks are completed quickly. If the patient is a candidate for a new clinical trial, the patient can be identified quickly, and information shared with a physician for follow up. If the patient is due for a screening mammogram, they can be scheduled in real time with relevant information captured shared with clinicians. Instead of having three conversations to resolve billing, scheduling, and clinical, the patient is able to have their needs taken care of in just one call with a single person.
The Bot Process
The patient calls and is offered some choices through IVR to perform simple tasks. If they would like to speak with a person, the call is routed to the patient engagement center.
HIPAA verification is completed, and then the dialogue begins. The agent is presented with demographic information and, if a billing or scheduling matter, can easily resolve. While addressing the issue with the patient, the agent deploys bots to capture relevant information related to future scheduling, disease management, or other clinical information to present to the patient for consideration and future dialogue with clinician.
If interested in a treatment program, the bot updates the record, sends a note to the clinician, and updates any scheduled appointments to include dialogue around prevention, disease management, etc. Lastly, the bot completes all notes in the patient's records and presents to agent for review/edit before finalizing.
This scenario reduces the number of calls a patient has to make while improving the quality and focus of the call. The efficiency gains significantly increase the number of calls an agent can handle while elevating the quality of the call to include opportunities to improve patient care.
This approach actually addresses all of the stakeholders' objectives while also proactively introducing opportunities to improve care and outcomes—and all of these activities are performed while maintaining the human touch of a live call.
COVID-19
The aspects discussed above are part of a well-functioning client engagement program. During unexpected healthcare events, those tools can be the difference between a client engagement program running well or being overrun. These days, we hear daily about overburdened health systems. These tools not only increase capacity; they have the ability to disseminate information rapidly. As we continue to learn about the COVID-19, the message to patients must reflect the most current information.
Where to get tested? What to expect during a test? Answers to all of these questions are evolving daily with expanded understanding of the virus and transmission as well as expanded access to testing. In those instances, the call center agent needs to be armed with the most current information while interacting with the patient. Bots can be programmed to ensure they capture the most current information.
In summary, patient interactions throughout the healthcare continuum are critical. The system is difficult to navigate under the best of circumstances. Simplifying and making it easier for patients, while demonstrating compassion along the way, helps ensure all of the stakeholders' objectives are met.
---

Tom Mathews is the president of ONQ, which provides both customer engagement and automation solutions. Over the last 20 years, Mathews has developed extensive experience in both the healthcare IT and revenue cycle management markets working with large health systems, independent delivery networks, multi- and single-specialty groups, and academic medical centers. He can be reached at thomas.mathews@onqoc.com