Let your clients–and potential clients–know that your compliance program is validated by HBMA.
The HBMA Compliance Accreditation Program establishes standards to help you safeguard protected health information (PHI). The program includes a thorough review and evaluation of your organization's implementation and adherence to HIPAA (including all aspects of the Privacy and Security Rules, HITECH, and Omnibus) and OIG compliance standards (FWA, Stark, Anti-kickback, and the OIG work-plan).
Why compliance should be a primary focus of your company?
Demonstrate to clients that your company fosters an atmosphere of compliance
Protect your company from sanctions, fines, jail

Why use HBMA Compliance Accreditation Program?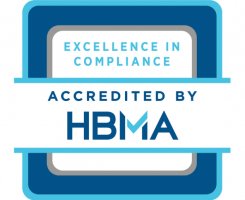 -Program tailored to the needs of HBMA member companies
-Step-by-step program makes the process easy
-Personal guidance through the program
-Offload day-to-day minutia of compliance
-Managed program with online dashboard that provides visual feedback
-Structured employee online compliance training
-On-call professional compliance support
-Policy templates provided
HBMA Members save on program costs! Not a member? Find out more about joining here.

Read what RCM companies are saying about the HBMA Compliance Accreditation Program
Read the full list of terms and conditions.
If you are a new user who would like to find out more about the Compliance Accreditation program, please click the "Get Started" button below. If you are a returning user, please use the "Sign In" button to access the program portal.

Learn more and get started:
Get Started

Returning users sign in to access your compliance portal:
Sign In

A Full List of Accredited Companies Can Be Found Here