RESULTS
Snapshot Survey on Data Security and Compliance
---
How do you safeguard your PHI? RCM Advisor asked HBMA member companies a short series of questions to find out. Interesting tidbits include 98 percent have a user ID and password policy, but only 42 percent use a password manager, which suggests a lot of passwords may be written on paper. Meanwhile, 68 percent have encryption policies for their servers, but only 43 percent do the same for their workstations. And RCM companies continue to take a wait-and-see position on leading-edge security technologies, with 33 percent adopting multifactor authentication and only 4 percent adopting biometrics (fingerprint, face recognition, etc.). More results are below.
What Are Your Biggest Cyber Security Concerns (Ranked)?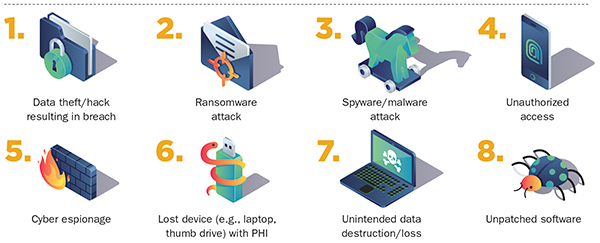 How Much Cyber Liability Insurance Coverage Do You Have?

Percentage of Companies that Employ the Following Data Security Safeguards

---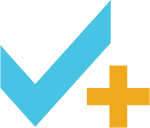 Are You Maximizing
Your HBMA?Membership?
As an HBMA member, you have access to resources, education, and a community of like-minded professionals. Don't leave your member benefits unused; start taking advantage of these resources immediately through your member login access!

Member Value Program. Receive exclusive discounts on books, certification programs, publications, and more from organizations like:

Connections with Members. Effortlessly collaborate and share ideas with colleagues from across the country through our annual in-person events, committee work, and online tools.

On Demand Education. Year-long access to recorded webinars focusing on relevant revenue cycle management topics such as Medicare, healthcare legislation and regulations, ERISA, value based data, Medicare Access and CHIP Reauthorization Act (MACRA), and more.
Certified Healthcare Business Management Executive (CHBME) Program. Become a Certified Healthcare Business Management Executive (CHBME) and earn continuing credit hours toward your recertification. This program is an exclusive member benefit designed to help those actively in owner or senior management roles advance their careers as revenue cycle management professionals. CHBME certification showcases your knowledge and skills to your peers, employer, and yourself.
Visit www.hbma.org to learn more about your member benefits or contact us directly at (877) 640-HBMA (4262).
Payor Reporting Tool. HBMA has created a web reporting tool for members to utilize when experiencing difficulties with particular issues. The data submitted will be used by the Commercial Payer Relations Committee in communications with payers by documenting significant quantifiable issues in order that HBMA and payers can work collaboratively to solidify reasons for change or improvement on behalf of our membership.
The web reporting tool also allows you to report specific 5010 claims and remittance issues you may be experiencing. The data collected will be used by HBMA in our efforts with CMS, OESS, and other key industry stakeholders to correct and resolve 5010 issues.
---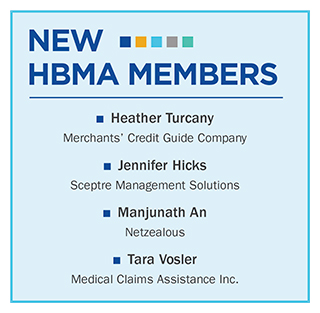 ---