HBMA Membership
Your Return on Investment
I recently had a discussion with Andre Williams, HBMA's executive director, about the value of membership. Karen Linsteadt, our VP of operations, and I have been members since the group's inception in 1992, and we have spent more than $200,000 during that time on our HBMA membership. Williams asked a very interesting question: Did I think there had been adequate return on this investment over the 20-year period?

To answer that question, I looked back at my involvement with the organization. I served on the board from 1993 to 2000, and I am a past president. Linsteadt has been actively involved in HBMA in committee membership from inception and served on the board from 2009 to 2012. We have attended approximately 90 percent of the spring and fall membership conferences. I have attended three O&M Conferences, and Linsteadt attended one. I have also attended three Compliance Conferences and three EHR conferences. Our investment includes the cost of all these meetings as well as 20 years of membership and a significant amount of money spent on board meetings. Without essentially any thought, there has unquestionably been a significant return on investment.

In many ways, I am not sure if we would even be in business today had it not been for much of the information received from HBMA and guidance in managing the direction of our business. From the O&M conferences, we have returned with hundreds of ideas on how to improve our marketing, control costs, improve our clients' return, and improve the relationship with our clients. It is hard to quantify the exact value, but there is no doubt in my mind that we have saved thousands of dollars of expenses from ideas picked up at the O&M conferences, and there is a direct relationship in the improvement of our marketing developed at these meetings.

The O&M conferences are truly one of the highlights of HBMA membership. For any members who have not attended one, you are missing out on opportunities to significantly improve your profitability. You will return with more ideas for improving your operations than you can possibly imagine. Each time I come back with more than 100 new ideas to improve our profitability. With total cost of about $2,500 to attend one of these meetings, we easily exceed that amount every year by adopting the best of these ideas.
The EHR meetings held in Phoenix from 2009 through 2011 enabled us to figure out ways to deal with possible revenue loss from clients installing EHR systems and finding ways to more closely solidify our client relationships by marrying their EHR efforts to our system. Had these meetings not been available, we would have been hard pressed to even survive the onslaught of client EHR involvement.
As a result of the compliance meetings, we were able to develop our first compliance plan and further upgrade the plan to ensure we remain in compliance with all new rules and regulations as they develop. There is no telling how much trouble this has helped us avoid. Believe it or not, even our marketing pitch is improved because of our compliance plan.

The semi-annual membership meetings have helped us save significant money on our billing system, use of offshore services, data service companies, and other vendors we use in-house. We found these vendors through our exhibit hall attendance at these meetings. The amount of money saved annually as a result of using these services is enormous.

In addition, and perhaps the most important benefit of attending HBMA meetings, we have developed friendships and relationships with several hundred billing companies throughout the U.S. The atmosphere of sharing that exists between HBMA members has saved us great efforts and allowed us to make educated decisions in many situations as a result of learning from the experience of others. At the same time, we have been able to provide useful information to HBMA members. This spirit of sharing information freely with your friends and business associates is impossible to measure, but anyone who does it extensively – as all HBMA members should – immediately recognizes the value of this kind of interface and friendship development.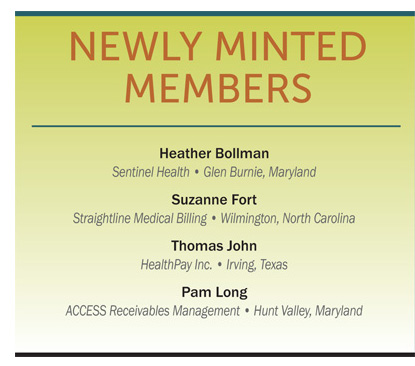 Because of HBMA government relation efforts, we have been able to keep up to date on what is happening in our industry and the value of the information we receive from Capitol Associates and Bill Finerfrock is not available anywhere else. Our message board is another extremely valuable tool that has allowed us to make proper decisions in how to proceed with our business and also how to avoid making errors others have made. We have explained this to our clients and prospective clients verbally as well as on our website.

We have been able to develop a website that includes the ideas we have learned from our membership with HBMA. We believe this has been a strong marketing tool to help us survive and prosper.

All of the above would more than justify our cost of membership, but it doesn't end there. A number of years ago, one of our consultants made a significant referral of a client that we obtained. We thought the client would be a large one-year client that would bring its billing back in-house. We billed for this client for four years and generated almost $2 million in revenue over this period. This particular referral came at a time when we were struggling and it literally saved our business.

You can come to your own conclusion about exactly what the return on investment has been on your HMBA membership, but for me, it has been returned many times over.

One last recommendation. If you are an HBMA member, and you are questioning the value of your ROI and trying to measure it, the most important way to make HBMA work for you is to get involved. If you sit back and occasionally attend meetings and expect the investment you make to return itself, you most likely will be disappointed. You will only get back from HBMA what you put into it.

We are all making a financial investment for membership and meeting attendance. We are all volunteers. Everyone who is a volunteer member needs to work on contributing to the good of the organization. When you do that, your ROI will be more than you could ever imagine.
---

Chuck Barker founded Med Group Billings in 1986. He also started Barker Financial Management Corp in 1981, as well as a CPA firm. Chuck is a Texas CPA and real estate broker and holds an undergraduate degree from the University of Maryland and a master's degree from the University of Texas-Dallas. Before starting his own businesses, Chuck served as VP of finance for two publicly traded companies in the Dallas - Forth Worth area.
Karen Linsteadt, VP of operations at Med Group Billings & Collections Inc., contributed to this column.