SPOTLIGHT ON!
Cindy Rounds

---
Hello, this is Cindy Rounds, Associate Director of HBMA, working in the national office! I have probably spoken to almost all of you at some point in time and you probably wonder what a typical day at the office looks like for me. The truth is, a day is never typical because I deal with so many different tasks and responsibilities and that is what I love about my job! Every day is unique and different! A day is never repetitive with so much to do, and working with my co-workers – a.k.a., the HBMA team – is paramount. I may be answering the phones, helping you renew your membership, registering you for a conference, or resetting your password. This is the client services portion of the day and I try to accomplish this with high enthusiasm while being very helpful.

I am presently working daily on the upcoming conference. I am working with the Vendor Affiliates and helping them to select sponsorships, pick out their favorite booths, and select their wines as they register for the upcoming 2012 HBMA Spring Educational Conference in New Orleans, LA, April 19–21. I'm here if you need help registering or to answer any questions that you might have about the conference schedule, the airport, or the hotel. My responsibilities include creating printed materials, evaluation forms, conference rosters, and check-in lists, as well as assisting attendees with dietary requirements. I have to make sure your name badge is at the registration desk waiting for you so that you can attend all of the sessions and social events! I will be there at the conference registration desk on-site interfacing with you, the vendors, and speakers and making sure that your attendance at the conference is a most positive experience. I live for that rewarding feeling that I get when I am standing at the conference and all the months of preparation have flawlessly come to fruition. Your faces show that you are having a great time and that is what it is all about. I hope to see all of you in New Orleans!

I also spend time working with two very important committees within HBMA, the Government Relations Committee and the Certification Committee, coordinating their face-to-face and sp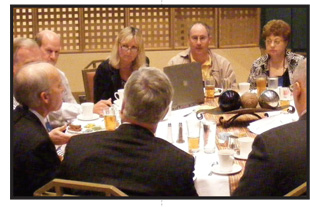 ecialty meetings and their conference calls. Considering that 2012 brings enormous changes and challenges for the healthcare community, the HBMA Government Relations Committee and leadership will continue to stay on top of all the issues and provide the most current information to the HBMA membership. I have been managing the CHBME program for over six years and now it has expanded to 194 participants and is still growing. If you have any questions about your CEUs or your "My CHBME" page, just give me a call and we will go over your CHBME together.

Just to add more variety into my day, I work with HBMA's accounting firm, doing coding and providing the firm with general accounts payable that the treasurer of HBMA reviews for approval. The accounting firm manages the daily renewals and HBMA online store through the website.

Another part of the day is working with new memberships. New clients call the national office trying to figure out what kind of membership they should apply for, how their company will fit in with HBMA, and what HBMA has to offer them. They almost always can't wait to join as they have heard wonderful compliments about how HBMA is the association to join and "the place to be." Many calls are from companies who supply products and services to billing companies, and hence want to join as Vendor Affiliates and exhibit at our conferences. They are excited to learn about how they can grow their companies by utilizing the marketing tools HBMA has to offer. I have to say, marketing and advertising are favorite parts of my day as it brings me back to some of my previous jobs selling office supplies, managing orthodontics offices, and presenting a costly dental treatment plan to an anxious patient in a dental chair. I find scheduling e-Blasts to the HBMA membership and managing the advertising program for Billing to be gratifying.

This is a glimpse of a day at the HBMA national office with Cindy Rounds. The sun is setting here and I will be back tomorrow and do it all again as a new day. Give me a call – I hope to talk with you soon.
Advertisement. Click ad for website.