Report from the Government
Relations Committee
A Strategic Planning Meeting
---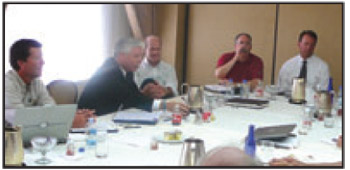 Government Relations Committee members at recent meeting: from L to R: Randy Roat, Bill Finerfrock, Lonnie Johnson, Dave Nicholson, Paul Gleis.
Three years ago, you and other HBMA members gave me the opportunity to share my thoughts and visions for HBMA. I felt then that HBMA was in a position to positively affect the healthcare billing environment through legislative input and regulatory participation. In doing so, we would also exercise a certain amount of control over our own destinies.

Today, almost three years later, I'm happy to report significant progress. Your Government Relations Committee has developed into an active committee of very talented people: Bob Burleigh, Paul Gleis, Susan Gregg, Ken Goodin, Bing Herald, Tim Karhu, Lonnie Johnson, J. Dennis Mock, Jud Neal, Dave Nicholson, Barry Reiter, Holly Louie, Randal Roat, and Don Rodden. Great care was taken to form the committee so that it represents the broad membership of HBMA in terms of the specialties served and company size.

The HBMA Government Relations Committee exists to monitor ongoing national regulatory activities affecting the medical billing industry. It actively comments on or otherwise explains HBMA's position on such regulatory activity through HBMA's lobbyist group; offers HBMA expertise and research to regulatory agencies as appropriate; informs HBMA membership of pertinent regulatory activity; and where appropriate, solicits HBMA membership position on regulatory activities.

It's notable that we've been able to convene such a high-powered and motivated committee. Both the committee and the Board of Directors believe that government relations involvement, access, and timely member education are very, very important aspects of HBMA.
Recently, committee members traveled (on their own dime) to Washington, D.C. for a strategic planning session, the results of which are being shared in this article.

We opened the meeting with a "state of the industry" discussion hosted by Debra Hardy Havens, President, Capitol Associates, Inc. and Bill Finerfrock, Vice President, Capitol Associates, Inc. They provided an update on current legislation relating to healthcare as well as the general feelings, consensus, and "hallway conversations" within Congress on whether this legislation might pass or not. They advised us not to expect too much healthcare legislation due to the focus on Iraq and other global issues at the moment. Healthcare bills are not going to get the attention and passage they otherwise might have. This does not mean that Congress will neglect the physician fee schedule update problem or potentially the drastic cuts in imaging payments mandated by the Deficit Reduction Act, but don't expect any major health care reforms between now and the end of the year.
CALL FOR HELP FROM HBMA MEMBERS
The committee has taken a political inventory of HBMA, which involved identifying those members of the Senate and House who are sitting on committees that are very important to the passage or blockage of healthcare related legislation and then identifying who in our membership is a constituent of those particular representatives. As the committee starts pushing some of these issues, we may call on various members to speak to their Senator or Representative. We hope members will respond to this call to action; it's much more effective if constituents meet with their representatives than having an association talk to the legislators.
HBMA ActionGram
To facilitate processing requests and answering questions from members, the committee created an intake process. In addition, an internal Government Relations Committee listserv will create a virtual advisory forum to make the nearly daily flow of information on new legislation and regulatory changes available to committee members and to get their input on the issues and on ways to return that information to the membership at large. Look for ActionGrams in your e-mail—this is information the committee has evaluated and deemed valuable to the membership. I encourage everyone to pay particular attention to ActionGrams.
HIPAA
One of HBMA's high priorities is the HIPAA Transaction Set. The committee met with Tom Gilligan, Executive Director, Association for Electronic Health Care Transactions (AFEHCT), one of the organizatio­ns that was responsible for the HIPAA Transaction Set, to learn how the authors feel the implementation is going. Unfortunately, they are disappointed by the speed at which implementation is proceeding. Despite the lack of progress on implementation of the transaction set standards, AFEHCT and other organizations remain optimistic that we will get there–eventually.

This is an area where HBMA members can be very helpful in the Government Relations Committee's effort to shape policy and get some action. To the extent you are frustrated with the slow pace of progress on implementation of the transaction code sets and find that you are less efficient today than you were just a few years ago, we need to hear from you. We received a fair amount of anecdotal information about some of the problems companies are encountering sending and receiving electronic data but we need more examples of some of the problems you are encountering.
StateNet
StateNet is a service that collects all state legislation related to our industry. HBMA members can sign up to receive its reports for the states in which they are active. Although the Government Relations Committee doesn't get involved in state issues, it encourages members to become involved. The resources of Capitol Associates are available, and members should feel free to contact Capitol Associates for guidance.

Government Relations Issues List
The following issues were identified by the committee as pertinent to the industry and worthy of some HBMA resources. They will have different levels of response from HBMA, ranging from placement on a watch list to member notification to active involvement by Capitol Associates and HBMA.
HIPAA Transaction set/security/privacy/ claims attachment
NPI/EFT/Enrollment/Credentialing
Pay for Performance
Image Building- Capitol Hill & CMS
Member Communication & Education
CMS Cooperation
Technology – EMR
Greater successes with the legislature
Database of members matched with their representatives in Congress—properly using to communicate the HBMA position with legislation
Medicare Contractor Reform
Compliance-fraud & abuse
ICD 10-maintain awareness
Health Saving Account
Practice Management
Insurer lawsuits
Association Health Plans-Business Issues-pass on to membership
State Net
Inform members about Gov. Relations
How do we improve relationships with the 85% of the insurer market—United Blues, Aetna, Cigna, Medicare, Humana.
Education Alert: How can HBMA work with the 15 new Medicare contractors?
It is my privilege to lead the Government Relations Committee and report to you about committee achievements. As always, there are significant challenges that we will face, but I believe HBMA is strongly positioned to meet these challenges.
---
Randal Roat can be reached at rroat@trimedgroup.com