HBMA NEWS
Meet Your New Board Members
HBMA Election Results

---
At the Annual Fall Conference some new faces and some returning faces were elected to the Board of Directors. They begin a three-year term on January 1, 2010, and will join current board members Scott Everson, Jackie Willett, Patrick Lukacs, Randy Roat, Bill Carns, Jud Neal, Holly Louie, and Don Rodden. Congratulations to all and a big thank you for devoting your time to shaping the future of HBMA.

Susan Chandler, MBA, CPC, CHBME
President and Managing Partner
Twin Physician Services, Inc.
Cindy L. Groux, CHBME
President/CEO
Health Care Practice Management, Inc.
Karen B. Linsteadt, CHBME
Executive Vice President and Co-Owner
Med Group Billings & Collections, Inc.

Re-elected to the Board were:
Barry S. Reiter, CHBME
President and Owner
Faculty Practice Services, Inc.
Joe Schendel, CHBME
CIO
Provider Support Services

---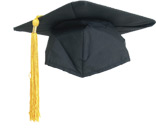 College Scholarships Available for the Billing Industry
Deadline for Applications: March 31, 2010

---
The Marion Financial Corp. Scholarship was established in 1999 to assist in funding the education of employees, or the children of employees, who work in the accounts receivable management industry.

This is a great opportunity for HBMA members and their families to receive financial assistance. The 2010 scholarships will consist of two grants of $4,000 each. Deadline for applications is March 31, 2010.

The awards are not based on race, color, or sex of the candidates, nor are awards based on financial need. The candidates will be notified by the third week of May. The decisions of the Marion scholarship committee and judges are final.
To receive the award, students must:
Be a high-school graduating senior
Enroll as a full-time student (12 credit hours or more) at an accredited college or university in the U.S.
Seek a degree in two-year or four-year college, university, or trade school program
Submit a 500-word essay titled: "Why Further Education Is Important to Me"
Complete rules and an application are available at www.MarionFinancial.com. Click on the "Scholarship" tab.
Application materials must be postmarked (or hand-delivered) by March 31, 2010, to:
Marion Financial Corp.
Scholarship Committee
9 Greenway Plaza, Suite 3131
Houston, TX 77046
---
To Party is Human—to Volunteer is Divine
HBMA 2009 Awards

---
Volunteers are the heart and soul of HBMA. In addition to those who generously give of their time and talents to the Board of Directors, many HBMA members pitch in to help HBMA achieve its goals. Every year those behind-the-scenes volunteers are honored at HBMA's Annual Fall Conference. Here are the 2009 heroes:

PRESIDENT'S AWARD


Andrew P. Kokosa, CHBME
Medi-Data Services, Ltd. • Naperville, IL
For voluntarily assisting the president and, through dedication and deeds, enhancing the office of the president and HBMA as an association.
THE J. DENNIS MOCK AWARD


Richard C. Papperman, CHBME
Cape Professional Billing, Inc.
Cape May Court House, NJ
For dedication of purpose and influence toward the goals of HBMA beyond the scope of a volunteer.
THE THOMAS N. HACKETT MEMORIAL AWARD


Bill Carns, CHBME
PracticeMax • Scottsdale, AZ
For outstanding committee leadership and for influencing, through the work of the committee, the overall direction and quality of the billing industry.
VENDOR SERVICE AWARD


Mark J. Snow
PSC Info Group • Valley Forge, PA
For contributing time and resources to the ongoing development of HBMA and for encouraging other vendors and members to participate in HBMA meetings and seminars.
SPECIAL AWARDS
ROOKIE OF THE YEAR AWARD
Joe Schendel, CHBME
Provider Support Services
Helena, MT
ABOVE AND BEYOND AWARD
Don Rodden, CHBME
HealthPro Medical Billing, Inc.
Lima, OH

ABOVE AND BEYOND AWARD
Sherri L. Dumford, CHBME
Three Bridges Consulting, Inc.
Alpharetta, GA
ABOVE AND BEYOND AWARD
Judson S. Neal, CHBME
Physicians Business Network, Inc.
Overland Park, KS
ABOVE AND BEYOND AWARD
Holly J. Louie, CHBME
Practice Management, Inc.
Boise, ID
GET 'ER DONE AWARD
Lyle Evans, CHBME
Professional Office Management Service
Boise, ID
GET 'ER DONE AWARD
Richard B. Usry, CHBME
Healthcare Management Systems
Richmond, VA
WATCHDOG AWARD
Barry S. Reiter, CHBME
Faculty Practice Services, Inc.
New York City, NY
WATCHDOG AWARD
Bill Finerfrock
Capitol Associates
Washington, DC
THE GRATITUDE AWARD
Judy R. Cardenas, CHBME
HealthMed, Inc.
Des Moines, IA