Intelligent Process Automation
for RCM
New technologies pave the way.
---
Revenue cycle professionals have long recognized that many of the tools and processes they rely on to manage operations across the revenue cycle are the result of years of ad-hoc workarounds and reflect the nearly unmanageable growth of regulatory and financial systems they work in.
Further, the current healthcare system is changing almost daily as new technologies and new approaches to healthcare delivery are challenging established ways of doing business. The constant state of change in healthcare financial operations and the dizzying pace of change in information system technology has created numerous opportunities for disruption and step change improvements in the ways and means that revenue cycle practitioners do business.
The economics of this opportunity are enormous. In 2016, billed professional and facility fees in the United States accounted for more than $2.7 trillion in healthcare spending and produced over $55 billion in bad debt 1. This is clearly an unsustainable situation and a major drain on the healthcare economy, resulting in untold hours of productivity loss. Re-capturing just 1 percent of that lost revenue could yield over $500 million in recovered cash. How much of that is on your organization's balance sheet? What if there were a means to accomplish this in a way that also reduced overall cost to collect? What if it were possible to accomplish this with the same or fewer resources and with higher quality and consistency? Intelligent process automation is a leading approach to making this a reality today.
Current Sources of Inefficiency in Revenue Cycle
There are many ways to understand a healthcare provider's position relative to best-in-class performance when it comes to revenue capture. In a business process as complex as revenue cycle, there are many points along the way to take stock of performance. One key indicator is adherence to HFMA's MAP keys model, which provide an overall best practice guideline and, more specifically, the cost to collect for any given account.
Our proprietary research shows that 41 percent of the cost to collect comes from back-end functions and also show that staff spend an average of one to two hours per day on hold while communicating with payers. A further source of inefficiency in the current process employed by most revenue cycle departments is that up to 35 percent of claims after primary payments are incorrectly transferred to patient pay without detecting the appropriate secondary payer.
These dismal statistics should not suggest that there have not been efficiency gains in other parts of the revenue cycle, but despite all of the improvements and movement toward standards and common measures, despite better practice management technology, clearinghouse edits and relationships, tools integration and improved analytics, most revenue cycle departments still have vast amounts of processing done manually.
Staff often either ignore new directives and revert to working within their comfort zone or change management systems are not robust enough to ensure long-term sustainable adherence to the new operating models. Without a fundamental change to our approach to change management, business process improvement, and technology adoption, the industry will continue to lag behind other sectors of the economy that have embraced new approaches such as intelligent process automation, also commonly referred to as robotic process automation (RPA). For the purposes of this article, intelligent process automation includes machine learning and artificial intelligence technology, while RPA is concerned with the application of business rules in an automated fashion that eliminates or reduces the need for manual processing.
The need for greater application of RPA, machine learning, and artificial intelligence to the revenue cycle has been recognized by many leading healthcare providers, including Catholic Health Initiatives (CHI) and others. Examples of RPA application to a wide variety of revenue cycle and financial processes at large and small healthcare providers are becoming more widely known, and RPA adoption is accelerating 2.
Among the several processes within revenue cycle that are ripe for application of RPA are payer contact, electronic data exchange information (EDI) processing, and low balance collections (under $3,000).
When considering how to apply RPA to revenue cycle, a helpful model is shown in Figure 1. By evaluating the relative extent of unstructured information and the complexity of decision making in a process, it is possible to prioritize and position a process in terms of the impact that RPA can have on driving efficiency and improving quality. Figure 1 shows various revenue cycle processes mapped against these dimensions.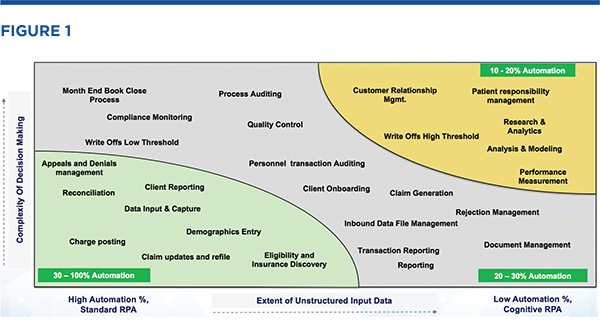 Looking at those processes where automation can have a high impact (lower left of the graphic), it is clear that back-end processes such as insurance discovery, appeals, and denial management have very high potential for improvement using RPA.
So what can RPA offer to improve productivity in this regard? RPA offers three key benefits for revenue cycle:
RPA supports enhanced security. Human points of failure with regard to PHI security are eliminated when the information is processed via intelligent machine-driven processes.

RPA is a precise means for monitoring quality and consistency. Uniform application of performance
standards is automatic with RPA-led approaches.

Technology evolution is moving much faster than process evolution and can be adjusted much more quickly to meet changing reimbursement guidelines. The typical issues surrounding deploying a new process or business rule (training, quality control) are eliminated as one central point of update and approval is required to affect change across an organizational process.
Automation, considered either as RPA or the more comprehensive approach, intelligent process automation, is the beginning of a technological journey that must be mapped to and supports the overall strategic goals of the enterprise. Decoupled from this context, it is not likely to be successful, but if supported and amplified by the overall strategic framework of an organization's growth plan, it will dramatically affect results for the better.
Applying RPA to the Revenue Cycle
The following several examples provide a framework for applying RPA to revenue cycle business process and, in particular, back-end processes such as insurance A/R follow up and payer contact.
Payer Contact and Claim Data Collection. Data retrieval for patient and billing information is a varied process, and its implementation creates logistical and processing hurdles that are often solved by manual means. For example, IVR systems and web portals used to collect data are inherently inefficient. One of the more burdensome inefficiencies is the management of login credentials. Credentials often expire monthly and are required for each individual accessing a system. It is difficult to manage, and expired login credentials can force the user to spend time resetting or, in some cases, bypassing and picking up the phone. Outsourcing some of this may reduce the cost or burden on the provider's revenue cycle staff, but it just transfers the inefficiencies to another party.
Payers have invested heavily in web portals but have not realized the sought-after benefits of call avoidance. Maintaining login credentials is a thorn in the side of many system administrators, particularly when third-party partners are involved or if high turnover is a concern. The constant issuing, deactivating, and resetting of passwords is time consuming and a drain on productivity. This is an example of a business process that can be dramatically improved using RPA.
Payer contact is one of the more vexing challenges to improving productivity of revenue cycle operations. The amount of time spent on hold with payers can take up to several hours of productivity out of an associate's day. RPA has been deployed to allow providers to schedule when and how they want their associates to be contacted by a payer—even to the point of specifying which accounts the associate wants to discuss with the payer. By eliminating the need for an associate to place a call and navigate the payer's IVR system, thousands of hours of productive time can be recovered each month, thereby lowering the cost to collect.
Claim Status Processing. Actionable or enhanced claim data processing represents another area where RPA can have a significant impact on revenue collection. For example, it is not uncommon for account information to be lumped together by payers, often simply because of incorrectly documented subscriber identifiers. Obtaining remit information though a RPA-driven system from payers to supplement claim status responses, for a "super 835" provides a much more comprehensive view of the claim. Adding remit data such as patient responsibility to claim status responses will then drive higher call avoidance rates. If a process such as this is enhanced with RPA, and for instance, an additional 25 data elements are added to an 835 response, the impact on productivity and ability to collect even low balance accounts increases dramatically.
Eligibility and Insurance Discovery. Eligibility and insurance discovery are important steps in the creation of clean claims that hold the highest potential for payment. These components are also important in managing the A/R process. Using RPA-driven advance search and discover technology with a typical process, hundreds of payers can be searched for coverage and benefit details with limited information on input and, most importantly, a single sign-on to a platform that provides these data elements in an automated framework. This is particularly important when coverage information is not readily available, as may be the case with EMS billing, for example.
The ability to see real-time eligibility within any workflow system is another key advantage to speeding up the claims resolution process. While many systems and clearinghouses offer this benefit, when used in conjunction with RPA-led coverage discovery, the results and data can be far more comprehensive and supportive of a robust and efficient claims management process.
Finally, the delay in collecting on claims and patient responsibility in particular are made worse by outdated address or contact information. RPA-led processing provides better data without manual intervention, reducing return mail and time spent sending new statements or searching for addresses using manual methods.
Case Study
Low-balance collections are a segment of A/R that are difficult to collect because of the labor-intensive nature of the process and the generally low level of effort placed on these accounts. RPA-led solutions can be used to automate the process to the point where meaningful recoveries can be achieved at a cost-to-collect that makes sense from an expense perspective as well. The following case study, shown in Figure 2, illustrates how significant recoveries are achievable from an inventory of aged small balance accounts.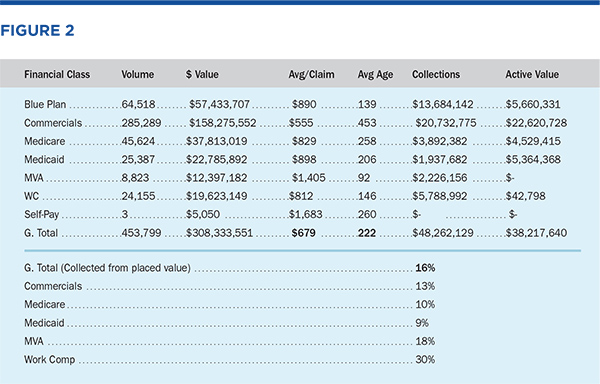 In this case, the average claim age was 222 days, the average claim value was under $700, and the total recovery was 16 percent (based on placed value). These results could not have been achieved using traditional manual-based methods and are illustrative of the power of robotic process automation to enhance productivity to the point where a significant additional component of revenue can be captured that was previously written off as uncollectable revenue/bad debt.
Summary
The promise of RPA to enhance productivity, reduce costs, and allow an organization to grow without adding resources has been well documented in many other industries. Its impact is only beginning to be felt in healthcare. Leading healthcare delivery organizations and best-in-class revenue cycle departments have seen significant improvements in bottom-line results by applying these new technologies and approaches to solving what have been some of the most intractable and labor-intensive processes in A/R. Application to upstream revenue cycle processes such as patient registration, coding, and manually driven billing processes are also amenable to RPA applications.
---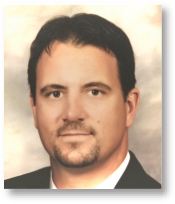 John Fundingsland is the vice president and general manager of healthcare financial services at Hexaware Technologies. He is a tenured and experienced executive who has led diverse operational teams in fast-paced environments to achieve extraordinary financial and operational results. He brings strong technical and business qualifications with a track record of more than 20 years of hands-on success running revenue cycle management organizations and is a leading advocate of technology driven solutions in healthcare financial operations.

Dan Hillman is the vice president of revenue cycle at Hexaware Healthcare Technologies and is responsible for client requirement analysis and solution development in the revenue cycle function. He brings over 30 years of diverse experience in healthcare financial operations, business operations planning, and global services delivery operations.
---
Resources
1 HFM, Bad Debt Expense Benchmarks, February 2017
2 Robotic Disruption and the New Revenue Cycle, Hfm, HFMA, September 2017