Patient Relationship Management Is Front and Center During COVID-19
The use of more robust patient communication and electronic engagement tools is on the rise.
By Josh Weiner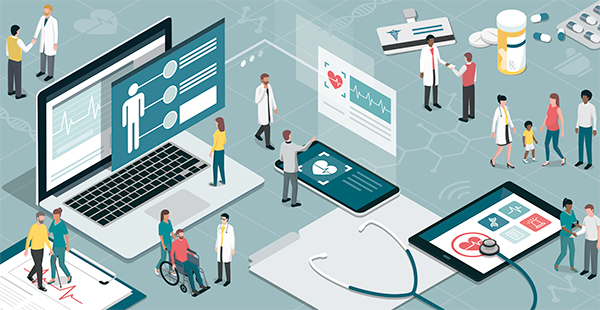 2020 has been a year of change for most healthcare organizations. Regardless of size or specialty, everyone has had to make changes. From closing completely to switching to telehealth services to reopening with new processes, there has been a lot to manage. Through it all, one thing has become very clear: Patient communication is more important than ever.
Patient communication, and many other aspects of patient engagement, fall under the umbrella of patient relationship management (PRM), which covers much of the patient journey outside the actual encounter. In addition to communication taking a much bigger role, so have other aspects of PRM that allow providers to support what is becoming known as hybrid care—the process of providing care through a mix of in-person visits and care at a distance.
It won't come as a surprise that the use of more robust patient communication and electronic engagement tools is on the rise. How else can organizations quickly get the word out about changes to appointments and support a new telehealth workflow? The challenge has been that many organizations didn't have the right tools in place when COVID-19 hit earlier in the year, and many cobbled together solutions to get by.
At the end of the day, in a crisis, you've got to do what you've got to do, but this won't cut it for supporting long-term success. Ultimately, with the prospect of dealing with COVID-related challenges for at least another six to 12 months, long-term success is critical. Adopting an end-to-end PRM workflow that supports hybrid care will allow organizations to meet those challenges head on, no matter what they are. The following best practices can help organizations survive and thrive during COVID and beyond.
Improve Patient Communication
First, now is the time to communicate with patients at a level no one ever imagined. Healthcare providers are in a unique position to reach out to patients and provide accurate guidance on COVID-19. In addition, healthcare organizations are on the front lines of testing and treating patients, so they are the best source of information for patients on what to do if they think they are sick. It's important to send regular communications to patients about general COVID-19 information like guidelines on social distancing and wearing masks, along with other precautions, symptoms to watch for, and how to get tested.
Healthcare organizations are also in the unique position of continuing to offer care for urgent needs. Most are looking for ways to offer as much care as possible, while keeping patients and staff safe. This means providing additional information on how patients can be seen and what is happening with existing appointments. Again, this will require more communication than normal and probably a combination of mass communications about what is changing with reminders for appointments. The reminder may need to contain new information about whether the appointment is telehealth or in-person, whether in-person visits require patients to "park & text" on arrival, and even some pre-screening like "please call us if you have a fever or cough prior to coming in."
The challenge many organizations have is how to ensure patients get all these critical communications. The answer is to use patient communication preferences. Now is a good time to reach out to patients about how they prefer to get information and record that. As patients contact the organization or get care, update preference for text, email, or voice along with language and timing or cadence of messages. Consider asking patients to update preferences in one of the other mass communications sent out related to COVID-19. For example:
Dear patient (use first names if possible),
As we continue to deliver the best possible care safely, we would like to share updates with you. You can now see a provider using telehealth appointments instead of coming in for many common concerns or follow-up appointments. If you need to schedule an appointment, please call or text our office at XXX-XXX-XXXX.
We want to be sure we can continue to reach out to you with updates about COVID-19 and how to access care at our office. If you would like to update your communication preferences, please (provide instructions to call, text, email, login to the portal).
It is likely that many patients will say they prefer text. The data shows that 86% of patients want to get texts from their providers, but even more telling is that 76% want to exchange text messages with provider offices.1 That is closely followed by email. Organizations need both automated and real-time text as well as email. In a crisis, immediate text and email messages may be the best, and sometimes the only, way to reach patients.
That was the experience for one of Connecticut's largest healthcare provider groups. The organization delivers service in over 200 locations statewide, offering primary care in medical, dental, and behavioral healthcare. They had to make very fast changes to appointments starting in early March. Their patient relationship management software was the only way they had to contact patients fast enough and often enough to keep up.
"Around March 8, we started to see patients self-selecting to cancel," explained the chief of staff. "By March 13, schools were starting to close; on March 17, we trained our providers on Zoom and our telehealth workflows; and, the following day (three business days after telehealth was approved in Connecticut), providers were seeing patients virtually. We went from 100% in-person visits to 96% of visits being conducted by video or phone in a couple short weeks. Suddenly, [our patient communication system] was our communication lifeline to patients. It went from being a 'nice to have' reminder system to the only way we could quickly get information out to patients about cancellations or changing in-person visits to telehealth."
The organization had a three-stage approach to patient outreach once COVID-19 started affecting appointments. First, they had to get immediate communication out that this was not the time to come into the office. "We had to say, as much as we want to see you and care about you, this is not the time to come in, but stay tuned as we're rolling out telehealth," said the chief of staff. "Then, we had to introduce video appointments. These visits require us to communicate extra information to our patients, including how to prepare for and conduct their video visit, as well as provide the patient with Zoom meeting details needed to join the visit. Finally, Connecticut approved telephone appointments, so we sent reminders with instructions for those calls.
"In this post-COVID period, [our PRM software] was the only way to find out about your visit information," said the patient experience coordinator. "There wasn't another way to get this much information out to this many people. We had to rely on [the software]."
Digitize the Patient Journey
Patient communication and PRM are about more than just sending reminder messages or newsletters. Text and email can also be used to reduce and eliminate processes that don't support virtual visits, social distancing, or better sanitization. Digitizing more of the patient journey can also save time and reduce errors. Healthcare organizations should consider moving these processes to a digital tool:
Scheduling:

Online scheduling allows organizations to more easily reschedule patients whose appointments were postponed, as well as new appointments. About 77% of patients think it is important to be able to book appointments online.2 Since the average scheduling call can take eight minutes, letting patients schedule online can only benefit the practice staff as well.3 Most online scheduling tools offer options to customize and control the schedule, and appointments can be review, approved, and confirmed via text or email.



Intake and registration:

Clipboards are thing of the past in the post-COVID world. No one wants to touch clipboards, paper, or pens right now, and paper doesn't support the needs of a virtual visit, either. Before COVID-19, over 50% of patients said they would prefer a doctor who lets them complete paperwork online.4 Electronic forms make it easier to update and revise forms so practices can add or remove something like a COVID-19 pre-screening form. They are also more accurate and less likely to result in data entry errors.



Payments:

Finally, with so much focus on how to get paid for services and keep revenue coming in, healthcare organizations must be able to collect payment easily whether the visit is in person or remote. If there ever was a time to implement electronic bill pay, it is now. Use it to collect copayments or other self-pay amounts prior to visits just like you would in the office. Send a text reminder before the visit so the patients can pay from their phone. Do the same once the ERA has been processed after the visit. It really can be that easy, and it's much more effective at supporting any visit type.
Patient relationship management tools have become a necessity as healthcare organization seek to support patients through hybrid care. Improving overall communication and digitizing more of the patient journey will allow healthcare organizations to be more nimble as they move between in-person visits and care at a distance, especially as future waves of COVID-19 come and go.
---

Josh Weiner is the CEO of Solutionreach. He joined Solutionreach from Summit Partners, a leading global growth equity firm. Through his work with Summit Partners, Weiner served on the Solutionreach board of directors for three years. Prior to Summit Partners, he was a consultant with McKinsey & Company. Weiner has been recognized by Utah Business as a 2017 CXO of the Year and as a 2018 Forty Under 40 Utah Rising Star. He is a graduate of Stanford University and resides in Salt Lake City with his wife, daughter, and golden retriever, Willow (who often makes cameos at the Solutionreach office). Weiner and his family spend as much time as possible exploring the natural wonders of Utah's mountains and desert. Connect with him on LinkedIn @joshfweiner
---
Resources
1 https://www.solutionreach.com/rethinking-the-patient-provider-relationship
2 https://www.accenture.com/t20150527T210435__w__/
gb-en/_acnmedia/Accenture/Conversion-Assets/DotCom/Documents/Local/en-gb/PDF/Accenture-Patient-Engagement-Survey-More-Access-and-More-Control-for-Chronically-Ill-Patients.pdf
3 https://www.accenture.com/t20150527T215543w660/
us-en/_acnmedia/Accenture/Conversion-Assets/DotCom/Images/ Global/Dualpub_6/Accenture-Patient-Engagement-Digital-Self-Scheduling-Set-Explode-Healthcare-Over-Next-5-Years-Infographic.jpg
4 https://www.mobihealthnews.com/47059/44-percent-of-patients-prefer-doctors-that-offer-online-appointment-scheduling