Billing in the Time of Coronavirus
3 HBMA Members Tell Their Stories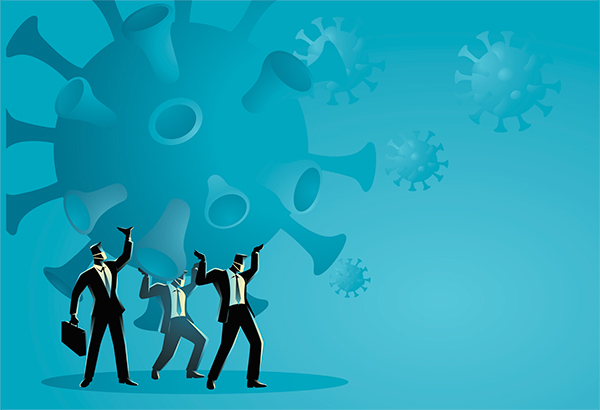 Cindy Pittmon, RCC, FRBMA, CHBME
President of Acclaim Radiology Management

COVID-19 hit us so unexpectedly that we felt like we were in crisis mode for the first several weeks. As stay-at-home orders were issued, we quickly determined who needed hardware to work from home and then sent operations staff home in waves, so as not to overwhelm our IT staff. The first phase included those who were the most vulnerable or had high risk health conditions. Overall, Phase I of the process went very smoothly, especially considering that most of our operations staff had never worked remotely. We also worked with our vendors to reduce any unnecessary expenses or services that could be done less frequently.
Then, we moved on to critically important Phase II: staff engagement. We used our office intranet, email, and telephone systems to keep everyone connected. Not knowing what impact to expect on volumes, we knew it would be critically important to set productivity expectations and measurements. Our department supervisors really stepped up in this area and kept the work moving. At our lowest, our incoming volumes dropped to 42% of normal.
In addition to regularly scheduled departmental and management meetings to maintain efficiency, we tried to boost staff morale with custom T-shirts to reinforce the importance of social distancing and to express our appreciation of our staff. We also had a couple of virtual happy hours.
Fortunately, we were able to work with our hometown bank to procure a Paycheck Protection Program (PPP) loan in early April. I thought we would have been more prepared for the changing whims of the government after working in the RCM industry, but with the confusing regulations and incomplete and changing instructions, it made a trying time more difficult. However, it did allow us to keep our team together, and we are thankful for that.
We were heroes to many of our clients as we shared accurate and timely information that HBMA provided us. That made us even more appreciated by clients, as they received that information before it appeared in the general or even medical media.
The infection rates in our state remained low initially, and we began to bring some staff back to the offices. We had to search high and low for some supplies, but we provided masks, gloves, and hand sanitizer for all staff, and made sanitizing cleaning supplies available. We also created dividers between each desk with clear shower curtains to try to minimize contamination and act as social distancing reminders. Finally, we developed a protocol based on national human resources best practices to measure employee temperatures at work and to track symptoms. Our biggest struggle was convincing everyone at the office to wear masks, but we made it a condition of employment.
As of this writing, the numbers in our state are skyrocketing and our governor is considering stay-at-home orders again. We are changing our plans for staff to return to the office to coincide with our local school districts' school year start dates in August. For those who have already returned to the office, we will give them the option to continue working at the office (using personal protective equipment) or return to working remotely.
We have discovered our own resilience through this pandemic, and with invaluable assistance from HBMA, I know that we will be stronger when this is all over.
---

Becca Goare, MPA, CHBME
Senior Vice President of Operations
Eastern Region at MSN Healthcare Solutions
Initially, MSN monitored the progression of COVID-19 with curiosity since not many of our clients are located in high-impact urban areas. We were attentive to volume declines as some hospitals began to suspend elective and non-urgent outpatient services; we were hopeful the disruption would not expand. We stayed informed, but nobody could have predicted the rapid progression of events that impacted both MSN and its clients as the nation locked down its businesses.
We were fortunate to have an infrastructure that supported a rapid deployment of staff members working from home. A relatively large proportion of MSN employees were already working remotely, and while there was a scramble to ensure everyone had sufficient computers and internet access, the deployment happened quickly and smoothly. We did learn some employees are less productive when working remotely but, overall, operational processes functioned normally. It was critical to monitor productivity, answer questions, and communicate effectively.
The unexpected? Our clients assumed we understood and would explain the rules governing the emergency loan programs on the day each was announced or amended—and they were frequently amended! Our clients requested guidance about the terms and conditions for each program, whether they should proceed with applications, and which financial options were best.
We summarized the programs as they were announced, including subsequent updates, and recommended they work with their own legal counsel and financial advisers. They did press us to help them evaluate options and risks, so we worked with MSN legal counsel to explain key points in a series of guidance letters. We also had to ensure client-facing staff understood and referred to the guidance documents, and continued recommending consultation with local practice advisers. Our goal was to avoid attempting to interpret nuances of the regulations themselves.
The speed at which programs were announced and amended made this a formidable task. We were fortunate to have an experienced and responsive law firm, and it reinforced that we will always want to have access to this level of expertise. It also confirmed that our recommendations needed to address what has turned out to be a very fluid situation. The government was working frantically to provide financial assistance to businesses, but it has been impossible for them to anticipate all the variations such a broad scope of programs would encompass. We therefore made sure our clients were aware that all announcements were subject to modification and reinterpretation.
The main lessons we learned were to:
Have key members of the leadership team assigned to monitor governmental programs and updates in order to anticipate questions.

Provide our legal advisers with examples of client questions.

Develop client communications with input from legal counsel.

Ensure the most accurate and consistent messages are delivered.

Not attempt to "wing it" with spontaneous answers to client questions.

Be flexible.

Kyle Tucker
President of Dexios Corporation
If you had asked me at the beginning of 2020 what the odds were to see a more than 50% drop in incoming procedures and subsequent drop in revenue for my billing company, I would have said it is inconceivable—not even a long shot. That would have also been my response to any number of questions like: What are the odds of March Madness being canceled? How likely is it every restaurant in my area will not be open for dine-in eating? What are the odds you will find it difficult to buy any toilet paper?
In the 1987 movie "The Princess Bride," Vizzini, the Sicilian genius employed by Prince Humperdinck to kidnap and kill Princess Buttercup, continuously uses the word "inconceivable" to describe things as they happen around him. His companion, Inigo Montoya, famously responds, "You keep using that word. I do not think it means what you think it means."
Such is the case with COVID-19. In fact, we have an unprecedented use of the word "unprecedented." Inconceivable and unprecedented? No longer. The world has changed in a moment—in the blink of an eye. The unthinkable has indeed happened: The world has turned upside down. And the revenue cycle management industry was not immune to the effects of the virus.
Billing company owners have had to scramble in the past few months. We have faced several years' worth of changes in the span of weeks. We've had to come to terms with numerous new and partially conceived governmental programs both for ourselves—like the PPP—and for our clients, such as the CARES Act Provider Relief Fund. We have had to move employees home quickly. We have had to familiarize ourselves with concepts that seldom escaped our lips prior to the pandemic, like furloughs. We were abruptly presented with numerous technical, HR, legal, logistical, and operational problems that needed to be solved in days, not months.
In my personal journey navigating through these issues, it seemed like my company was reasonably well-prepared for this event. We already had about 70% of our employees working from home. We saw early on this would require us to move most of the rest of our staff home and made arrangements accordingly. We started furloughing employees as we waited for approval from the PPP, and then scrambled to get them back once the money hit the bank.
We have employees in 16 states, so this complicated our preparation and response. The pandemic, as you know, was handled on a state-by-state basis on things like stay-at-home orders and travel restrictions versus a coordinated national response. It's hard to keep track of all the moving parts when this occurs.
My company exclusively serves radiology groups and imaging centers, so we did not have to deal with the challenge, as so many did, of quickly adjusting to telehealth services. The good news for those of you who did quickly implement telehealth is you now have a new revenue source. This was a tenuous lifeline to many practices around the U.S.
As non-emergent imaging came to a standstill, our incoming volumes fell commensurately. If there is a silver lining in the revenue cycle industry in a pandemic, it is that it is easy to anticipate falling revenues well in advance, as incoming procedures fall before it impacts the bottom line. We put plans in place to cut discretionary expenses in anticipation of revenue declines and other expenses, such as statements and clearinghouse fees, fell naturally as the work recedes.
The federal government jumped into action to help small business and the unemployed with the precision of an untuned, 1972 Ford Pinto with an exploding case tank.
There were myriad options for healthcare providers. Unfortunately, the revenue cycle industry operates in a relatively complex and well-regulated part of our economy. The hurried laws didn't come close to addressing all the intricacies. For example, the payments to practices in the CARES Act Provider Relief Fund were all over the place. This added unneeded confusion in an already stressful situation.
One of the interesting twists to the government intervention was the additional $600 per week they would provide to unemployed or furloughed Americans, which was over and above regular unemployment amounts. This softened the blow quite a bit when furloughing employees. However, it created completely new issues, as most furloughed employees were now making more money than those working. This was especially hard to explain to those employees still working that their compatriots not working were making more money without having to work.
We applied for the PPP on the first day it was open. Unfortunately for us, our banking relationship is with a national bank, so we applied through them. The fact that the federal government didn't base the relief on need created some interesting scenarios. One of my providers was granted the PPP and put the money in cash reserves because they didn't need it at the time.
As for us, it was only after the first round of PPP ran out of money did the bank inform us they had never submitted our paperwork, but would do so as soon as the program reopened. Later, we found out this was not unusual for larger banks and that applications submitted through smaller banks and lending institutions had a much higher success rate.
It was fascinating to see comments from my friends and family who suddenly became unemployed or underemployed about how they were bored at home and looking for things to do. In contrast, I was in the appalling paradox of declining billable work but increased uncompensated work for myself and executive staff as we sought to understand all of the new regulations, explain them to our clients, and also handle the continuous curve balls thrown at us by our vendors going through similar business changes.
We've tried hard to keep our employees in the loop of what is happening from the outset. We also told them our highest priorities are to continue to give excellent service to our clients and for the company to survive this so everyone has jobs to come back to when this is all over. The attitude of those employees who have been furloughed was amazing—perhaps because we gave them details well in advance of what was happening, what steps we were taking, and why we were taking them.
The future remains unclear. We've probably all heard the stories about paths to reopening the economy. A massive debate rages about dates, methodologies, protective measures, and enforcement, as well as who is in charge of the process. Ideas have been floated by several reputable organizations on both sides of the political spectrum about tracking us via cellphone— even though most Americans are against it. The cellphone idea is that you, if tracked, can find out quickly if your travels take you into contact with someone who has tested positive for the virus.
Whatever the solution, the economy lies in shambles presently. Everyone wants to get back to "normal" as soon as possible. The question is how much liberty, safety, lives, etc. are we willing to trade in the process of doing so?
We will make it. Our world may look different. Our industry will probably be changed forever, but the important thing to remember is that we will survive.­
---