Beyond the Exam Room
The increasing role of the patient financial experience in
access to timely care.
By Eric Arnson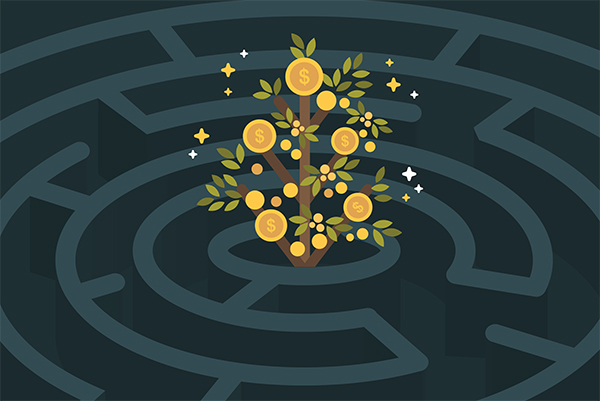 Few physician practices or specialty providers have escaped the impact of high-deductible health plans (HDHPs), which now account for nearly 43 percent of all private health plans.1 Out-of-pocket maximum patient responsibility increased nearly 30 percent between 2015 and 2017, now averaging $4,400, putting greater financial strain on patients and providers alike.2 The process of seeing a patient, submitting the claim, receiving reimbursement from the payer, and balance-billing the patient for the remainder is an outdated, ineffective business model. It is also a business model that can be harmful to patient care.
According to an article published by Patient Engagement HIT, 64 percent of patients delay or skip care because of costs. Unfortunately, this can lead to even more costly episodes, such as visits to the emergency room, increased hospital readmissions, reduced outcomes, or even death.3 Many providers make matters worse by refusing to schedule new appointments if a patient carries an unpaid balance from a previous service. While patient health is the first consideration, complications from avoidance of care can also impact the physician in regard to lower reimbursements and potential penalties in alignment with value-based care.
Delivering quality care in the age of HDHPs requires providers to think beyond the exam room to include the patient financial experience. Fortunately, there are revenue cycle management software solutions now available, including patient-centric tools that help remove financial barriers and ensure patients can get the care they need when they need it.
Pricing Transparency
Now that patients owe more of their own healthcare costs, they need greater transparency around both their payment responsibility and the cost of services. Patient responsibility estimators can provide a real-time detailed picture of a patient's full responsibility at or before the time of service. In this way, providers can take an educational—not adversarial—role in the patient financial experience. Estimates also help patients make more informed decisions about their care and financial obligations.
Coverage Transparency
With HDHPs, patients often don't understand their benefits coverage. Fortunately, eligibility and coverage verification technology gives providers the ability to gather coverage information on all insured patients at or before the time of service. These solutions can be used to perform batch eligibility runs for each day's roster. For patients with recurring appointments, those runs can be saved to make future verification faster. The technology can also be used to check eligibility in real time when the patient arrives, simplifying the check-in process for both the patient and front-desk staff. In short, there simply is no reason a patient should be left in the dark as to whether a procedure is covered or not. Besides helping patients better understand their coverage, it also helps providers avoid denied claims for services performed but not covered.
Patient Payment Options
To mitigate the impact of higher patient deductibles, providers are putting more pressure on patients to pay at or before the time of service. While this is understandable, it's ineffective if the patient lacks the ability to pay up front. It can also harm the patient-provider relationship and patient satisfaction. Without payment options, patients may be forced to empty their savings account, borrow from relatives, or put large amounts of medical debt on credit cards. Today, medical debt is the leading cause of bankruptcy, even for those with health insurance.4
Enabling patients to self-select payment options that work best for their unique financial situation helps ensure patients have access to timely care. According to the 2017 Revenue Cycle Management survey by Black Book, 95 percent of consumers polled said they'd like the ability to pay online and 70 percent said mobile payments and alerts would improve their relationship with their provider.5 Yet, the same survey found only 20 percent of healthcare financial administrators are ready for electronic payments. A good place to start is by offering tools that make it easier for patients to pay, such as:
Point-of-service payments with cash, credit, or check

Patient-friendly billing statements that are easy to understand

Online patient payment portals to make payments easier

Phone payments for easy communication about balances and payments

Self-select payment plans
Increased patient responsibility shouldn't hinder access to quality care, and while there are many options to increasing patient engagement, one is implementing revenue cycle management tools.
---

Eric Arnson is the senior vice president of product management at Change Healthcare and has more than 20 years of experience leading complex growth initiatives in the healthcare IT, manufacturing, and retail markets. Arnson has a bachelor's degree from Kelley School of Business at Indiana University.

---
Resources
1 "CDC Finds 43.2% of Americans Have High-deductible Health Plans: 4 Additional Stats," Morgan Haefner, Becker's Hospital Review, February 23, 2018.
2 "12 Trends in Patient Responsibility, up 29.4% Since 2015," Laura Dyrda, Becker's ASC Review, October 24, 2017.
3 "64% of Patients Avoid Care Due to High Patient Healthcare Costs," Sara Heath, Patient Engagement HIT, February 15, 2018.
4 "Medical Bills Underlie 60 Percent of U.S. Bankrupts," Maggie Fox, Reuters, June 4, 2009.
5 "12 Trends in Patient Responsibility, up 29.4% Since 2015," Laura Dyrda, Becker's ASC Review, October 24, 2017.