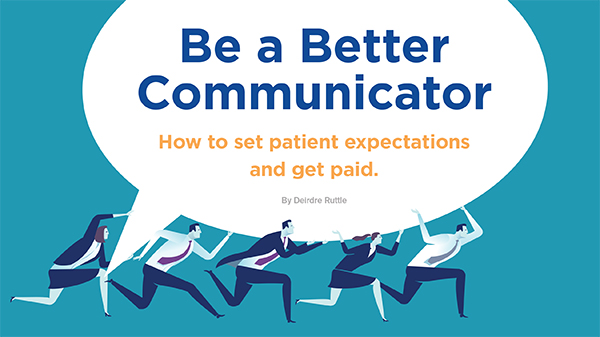 The healthcare landscape is changing as patient responsibility continues to increase and providers are relying on patients—rather than only payers—for more of their revenue than ever before. Yet, in response, the healthcare payments experience has been slow to change. Patients are frustrated with the confusing and inconvenient payments experiences offered to them in the industry. Billing services need to evaluate their billing and payments processes and consider implementing changes that will improve the way staff engage with their provider clients' patients about payments.
What follows are tips and best practices for collecting increasing patient responsibility by improving the way that you communicate with patients. Here are four kinds of conversations your staff can initiate to change the payments relationship with patients.
"What payment method would you like us to keep saved on file?"
As with any payment process, it is important to take a proactive approach to patient collections by starting the payment conversation early on. Consider creating a policy where all patients keep payment methods saved on file with your organization. This will make collecting payments from patients easier and help establish that patients are expected to cover their portion of their healthcare responsibility. If a patient asks why they need to save a card on file, try these responses:
"We ask all patients to keep a card saved on file; it's our policy."
"Based on your previous claim history and coverage, it looks like you're going to owe some amount for this healthcare encounter. We'll use this card to collect the payment once your responsibility has been determined by your health plan."
Give your staff visibility into the patient's payment information and history so they can be prepared for any conversation and better help patients understand what they are going to owe. This empowers your staff to feel confident in talking to patients by having all the tools and information readily available to them prior to a patient interaction. This not only increases your likelihood of getting paid, but it also establishes your credibility and allows patients to feel a sense of trust in your organization. Most patients are confused by their medical bills and are just looking for some guidance with the payments process; enable your staff to offer that guidance and build loyal, trusting relationships with patients.
"Your credit card information is secure."
Patients have seen the data breach headlines in the news and they know there are risks associated with keeping cards saved on file. It is vital for your organization to ensure patient credit card information, and the way you store payment information, is secure. Don't allow staff to save any payment information on paper—for example, never write down a patient's credit card number. Encryption is the simplest and most effective way to ensure that payment information is secure and cannot be viewed or accessed by any organization.
Furthermore, you must instill confidence in patients that their information is protected. Your staff must be able to assuredly convey that the patient's credit card information is secure and that your organization has the highest levels of security and compliance. The easiest way to do this is to work with a payments vendor that is up to date with all security and compliance standards, including HITRUST and PCI. If your organization cuts corners around security and compliance, you are not only increasing your chance of a data breach but also losing the valuable trust of patients.
"We'll never charge your card more than what you owe."
It's very easy for patients to become frustrated with billing services over high healthcare expenses, but you can help patients understand that their responsibility is determined by their health plan. Start by working with your provider clients to collect a portion of the healthcare payment upfront. Not only is this good for cash flow, but it also makes payment easier for patients. When they do receive a bill, they've already made some payment on it, making it seem lower than expected or like they've already made good progress on paying it back. This creates a more positive experience rather than receiving a bill that is overwhelming and repayment hasn't even started.
Patients might be intimidated by the idea of letting you charge their card to collect their responsibility, especially if it's possible that the responsibility is in the thousands. Ease patient concerns by establishing a charge limit. This lets patients know the maximum amount they will be charged and will also lead to conversations about other payment options like payment plans.
"We want to make this easy for you. You have options."
Healthcare is personal, and patients want to feel like you are on their side. Establish a conversation with patients and let them know all their payment options, including payment plans and automated payments. Some patients may find that automated payments give them a sense of control as they know that their card will be charged a specific amount at a specific time. Plus, when patients save a card on file, it gives your clients payment assurance that you have a way to collect from patients.
Patients also want visibility into their payment process. Do you have a patient portal? If so, talk to patients about their options with a portal and give them some ownership over their healthcare bills. With a patient portal, patients can access a digital wallet where they can store and manage payment methods, view their payment history 24/7, enroll in e-statements, and set up self-service payment plans.
Additionally, it is important to remember that every patient is different. Make sure patients know they have multiple options to pay, including paying a balance over the phone or setting up payments through their bank bill pay portal. Options give patients convenience and show that you respect their preferences. Improve the overall patient experience by giving them the simplest and easiest ways to pay their bills.
---
Deirdre Ruttle is the vice president of strategy at InstaMed. Before joining InstaMed, Deirdre held senior marketing roles at alphabroder and Collages.net, where she led marketing strategy to drive usage of B2B and B2C e-commerce platforms.