Add Value for Your Clients
Though providing more services to your clients may sound like a lot of tough, long work (and it is), adding certain types of value to your business can pay off in the long run. Hear from those in the industry who have implemented reporting and data to bring their clients more easy-to-understand reports, and how one company is using in-depth trainings to enhance the client experience, as well as retain employees.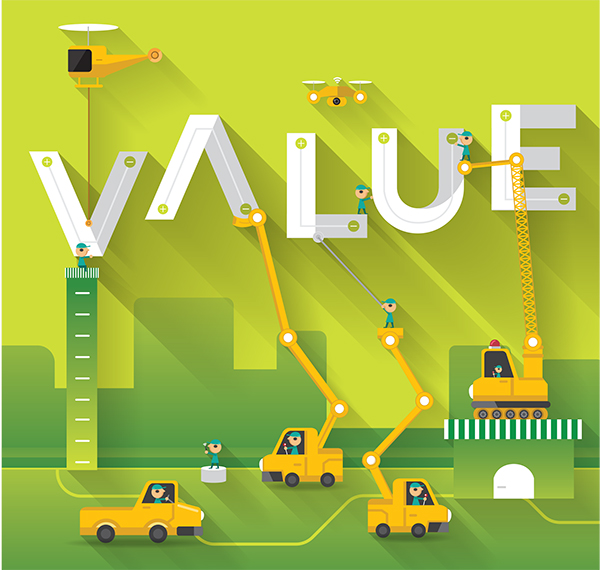 Part I: Reporting, It's Not Just Data;
It's Information
By Dave Jakielo, CHBME
Having dedicated my entire career, which has spanned over five decades, to what we now refer to as the healthcare revenue cycle integrity industry has been an interesting journey.
One of the goals I established in the early '80s, and unfortunately still has not come to fruition, is that I had always hoped that our billing services would not be considered a "commodity."
Our clients rarely change their other profession like their lawyers or accountants, but for some reason it still baffles me that they think billing is billing and the only thing that defines a good company is a low price. Which brings to mind "penny wise pound foolish."
I still haven't given up on my goal of wanting the entire industry to elevate to the same level and be looked at by providers with the same respect as lawyers and accountants. This isn't going to happen just by waving a magic wand—although some of you know I'm a magician, too—rather, the transformation will only occur if we enhance the services we provide to our clients.
One element that we definitely need to upgrade is to start providing our clients with informative reports. We must not settle for just giving clients reports containing data, which we have been doing for decades; rather, the data must be transformed into information. Thankfully, this is possible today.
What has changed that allows us to turn data into information? It's reporting software referred to as "business intelligence," or more commonly known BI. Most of these programs work by uploading raw data from your practice management software, usually overnight, into the client's software, which resides in the cloud. Then, the client's software allows you to slice and dice your data as needed.
You can create custom reports on any data element that has been extracted from your system. In addition, most software packages come with a set of canned, "most common" reports that have been developed based on users' requests over the years.
Here are two of the many examples of how I have used these reports as informational tools and have trained my clients to do the same.
EM Coding Graphing Function
I utilize the EM coding graphing function that compares each individual provider or the entire group of providers to the CMS national bell curves and the bell curve relating to their specific specialty. The result is that the provider can visually see how they code compared to their peers. If their specialty and the Medicare curves indicate that they should be doing 40 percent Level 3 visits and their utilization graph indicates that they are charging Level 3 visits 70 percent of the time, it shows them that they may be up coding. It could also show that they need to review their documentation to ensure they are meeting the criteria for a Level 3 visit to avoid an audit.
A provider may not believe what you tell them about coding, but they sure pay attention to Medicare and their peers' specialty data when you put it in front of them.
Payer Mix Graph
Another example of turning data into information is by using a payer mix graph that easily identifies shifts that can have a significant impact on revenue. I had a doctor tell me that he was working harder and being paid less and, of course, it had to be the billing company's fault. All I needed to do was run year-to-year comparison of the practice's payer mix, which took only seconds, and I could prove to him why his collections were lower.
What I found was that the major employer in town had switched insurance plans for all their employees. And, unfortunately, they were enrolled and participating providers with both insurers. The old insurer paid the practice 175 percent of Medicare and the new insurer had a contract that only required them to pay 120 percent of Medicare. Therefore, in this case, the doctor was indeed correct; he was working harder and making less. I would have been able to get the same data out of the PM system, but it would have taken more than a few seconds for me to turn it into information using a program like Excel or Access.
Another feature of most BI programs is that they allow you to set up what is called "subscriptions," meaning I can have any canned report or one that I have personally customized delivered automatically to my email daily, weekly, or monthly, and I could have that same report delivered to my client, too.
As you can tell, I'm a fan of business intelligence reporting. Not only do clients appreciate the information, but it makes me look smarter, thereby elevating my status to coincide with their lawyers and accountants. If you want your clients to quit thinking of you as a commodity, it's time to set up your service offering and become a source of valuable information—not just a data repository.
---

Dave Jakielo is a medical billing consultant, international speaker, executive coach, and author, and is president of Seminars & Consulting. Dave is past president of Healthcare Billing and Management Association and the National Speakers Association Pittsburgh Chapter. Sign up for his free weekly Success Tips at www.Davespeaks.com or text Davespeaks to 22828. Dave can be reached via email at Dave@Davespeaks.com or by phone at 412-921-0976.
---
Part II: HIPAA Compliance Trainings
By Cindy Pittmon, RCC, FRBMA, CHBME
For most billing companies, selecting, training, and retaining quality employees is a critical and expensive endeavor. In our experience, obtaining and retaining customers is even more critical and expensive. Finding ways to improve customer retention should be an ongoing and high-priority activity for billing companies that want to survive in the marketplace. As Acclaim Radiology Management approaches our 25th anniversary, we are offering a compliance training solution that addresses employee training and client retention.

In every strategic planning session since our inception, we have always sought out value-added services that we could provide to our clients. We believe that this customer focus has helped us to have a 98 percent client retention rate. There are many reasons for our successful retention of clients, but we attribute it primarily to our ability to listen to our clients' needs and provide services for our mutual benefit.
Beginning in early 2005, we created a website to host our internal compliance plan and provide an online training site for our staff. The site allowed us to provide content, testing, and tracking of our employee's training. We soon realized that hosting our client's compliance plans and annual training would provide yet another service for our clients and be a significant value-added service. Over the years, we added our employee manuals, confidentiality agreements, and training manuals for ease of access by all employees. Our clients have equally valued each document and service that we provided internally. As our clients continued to depend on us to assist with their compliance needs through our website, we also began providing annual on-site compliance training for them. We knew that we were not competing with any other billing company in this arena, and it provided a stickiness that helped to cement our relationships with clients.
Earlier this year at a conference, we met an exhibitor that specializes in providing medical compliance training. As an aside, it is always recommended to take advantage of time with exhibitors at conferences. It's a great way to find solutions that you may not even be aware that you need.
Although there are other vendors, such as AAPC, which offers Healthicity, we chose Healthcare Compliance Pros (HCP). HCP offers a cloud-based compliance program that includes all the elements of our own compliance site and many more at a reasonable cost. A HIPAA threat analysis, OSHA risk analysis, security risk analysis, email reminders to complete scheduled tasks, state-specific regulatory issues, monthly checks of the OIG exclusion list, tracking business associate agreements, compliance experts, and breach assistance are just a few of the additional services provided by the compliance vendor we selected. The new program also allows us to upload our own content for training modules such as HR policies and manuals.
It only took us a few moments during the demonstration of the new program to realize that in keeping with the compliance services we provided on our proprietary site, we had an excellent opportunity to further strengthen our client relationships. The new compliance vendor allows us to act as a reseller of the product to our clients. Start-up fees and monthly maintenance fees are potentially a profit center for our company, but, even more importantly, the service provides us a much larger opportunity for client retention.
We quickly provided demonstrations for our clients, and most of them signed agreements for the product before we had fully implemented it in house. Introducing a very simple, easy-to-use program that meets all the regulatory requirements for our clients and at a reasonable price makes us look like heroes. More importantly, it increases our value to the clients and has provided us the stickiness with our clients that we were seeking beyond just the terms of the contract.
---
Cindy Pittmon, RCC, FRBMA, CHBME, is the president of Acclaim Radiology Management. She formed Acclaim Radiology Management after earning her business degree from LeTourneau University in 1993. Cindy is currently serving as the chair of HBMA's Certification Committee. She can be reached at cindy@acclaimrad.com