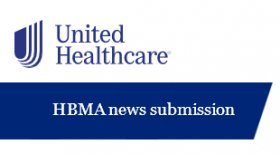 VCP statements went digital on February 3, 2023
If you receive virtual card payment (VCP) statements in the mail, as of Feb. 3, 2023, we'll no longer mail VCP statements. Instead, you'll be able to view them 24/7 through the UnitedHealthcare Provider Portal or an Application Programming Interface (API) that permits you to automate document retrievals.
This change only applies to network commercial and UnitedHealthcare® Medicare Advantage health care professionals (primary and ancillary) and facilities who are receiving VCPs.* It doesn't affect those using an automated clearinghouse (ACH).
Please share the following changes and digital workflow options with those who are affected, including outside vendors such as revenue cycle management companies.
View virtual card payment statements 1 of 2 ways
1. Document Library in the UnitedHealthcare Provider Portal:
• Go to UHCprovider.com > Sign In
• Sign in to the portal with your One Healthcare ID and password
o If you are a new user and don't have a One Healthcare ID, visit UHCprovider.com/access to get started
• In the menu, select Documents & Reporting > Document Library > Payment Documents folder
Tips:
• We encourage you to set up a daily task to check Document Library for updates
• Finding documents: Use Advanced Search and search by Member Name, Case ID or Claim No. to help you find what you need. For letters available after June 30, 2022, you can also search by Member ID.
2. API: Consider retrieving documents through API by automating system-to-system transactions. Data can be distributed to your practice management system or any application you prefer. API requires technical programming between your organization and UnitedHealthcare.
To get started:
• Go to API Marketplace
• Sign in to the marketplace with your One Healthcare ID and password
• Click Start Registration Request button on the homepage
• On the "Welcome" screen, select your organization type and click Register
• Enter the tax ID number (TIN) and click Next
• Follow the prompts to complete the registration process
Please allow 2 business days for our API Consultants team to contact you.
Note: Attachments cannot be sent for other types of claim submissions.
What's ahead in paperless
Letters we mail you aren't the only communications going digital. Looking ahead to 2023, we'll continue to provide and promote member health plan ID cards in digital formats, which may require changes in your patient intake process. In addition, contracted health care professionals and facilities will be required to submit most claims, claim attachments, reconsideration requests and appeal requests electronically.
All required paperless transitions will be announced in Network News at least 90 days prior to the change. We encourage you to explore our digital solutions and review your workflows so that your team is prepared. Review the most up-to-date information, exclusions and schedule at UHCprovider.com/digital.
Questions? For help accessing the portal and technical issues, please contact UnitedHealthcare Web Support at providertechsupport@uhc.com or 866-842-3278, option 1, 7 a.m.–9 p.m. CT, Monday–Friday. Primary Access Administrators may also contact Web Support for help updating notification emails.
*Currently excludes: UnitedHealthcare commercial and Medicare Advantage Plans of Colorado; and Behaviorial Health.