TrackIt: A daily to-do list that's customized just for you

Wondering if the prior authorization you submitted last week has been approved? Checking if additional
information is needed for a recent claim submission? Looking to see whether a decision has been made
on an appeal?

TrackIt is designed to make it easier than ever to get answers to these questions and more. This
innovative tool, found in the UnitedHealthcare Provider Portal, highlights recent claim decisions and items
that need action. It's right on the portal home screen (see below), so it can't be missed — think of it as a
daily to-do list for your UnitedHealthcare claim tasks.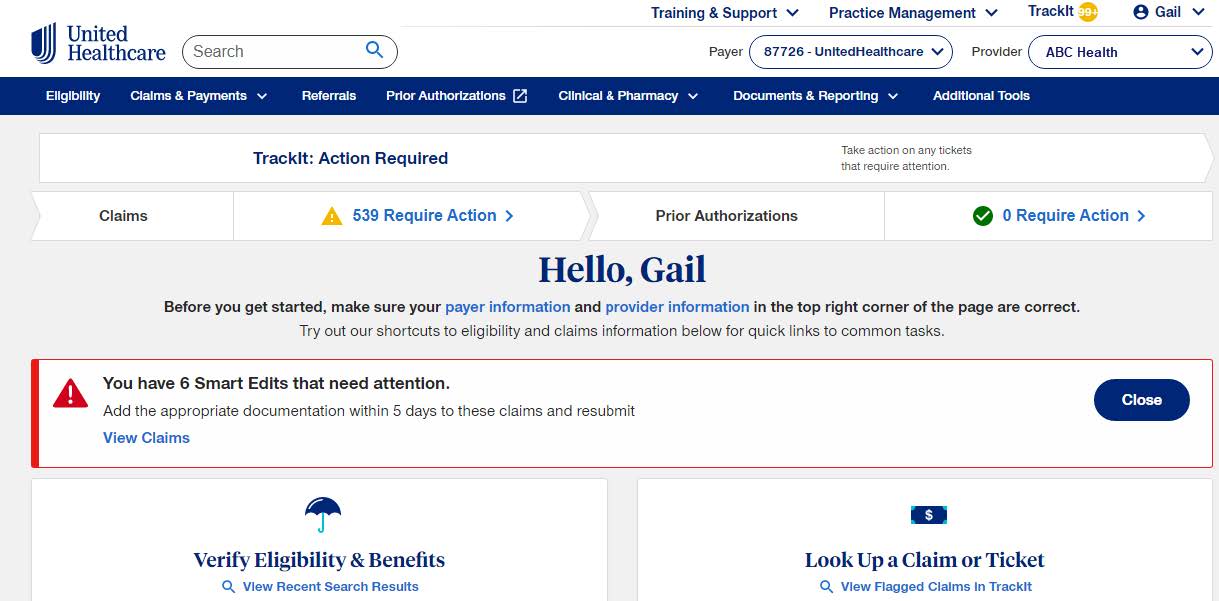 Make TrackIt work for you
TrackIt shows you near real-time updates and can be customized to fit your needs. It allows you to:
• Set up specific email alerts to be notified of specific activity and status updates
• View activity on requests, pended claims, reconsideration, appeals and Smart Edits
• Set preferences and use filters to view your own work or monitor work of colleagues, if needed
• Flag your claims for easy access

We're listening to you
TrackIt is constantly evolving, based on feedback from you. These enhancements help you get the
information you need the moment you sign in to the portal. Check out some of the newest enhancements
as well as those planned for later this year below.
Recent enhancements
The following updates were recently added to TrackIt:
• See items that need action in one glance with the "Action Required" bar at the top of the portal
home screen
• View prior authorization and appeal decision letters immediately from TrackIt. Watch for other
types of letters, such as clinical, Medicare Pending, Additional Information and
Reconsideration/Pending letters, to be added over the next few months.
Upcoming enhancements
Watch for the following new features and updates throughout 2022 and beyond:
• Action-needed alerts: You'll be automatically sent an email from TrackIt when items have been
added. You'll be able to change your email preferences using the portal's Manage Email Notifications
tool.
• View submissions for up to 1 year: Previously, claim and prior authorization submissions were only
viewable for the past 14 days
• Notifications of medical records still needed: Find out what medical records we still need from you
and what documents we have
• My Practice Profile attestation reminders: Get 90-day attestation reminders and confirmation when
your updates are made
• Reconsiderations submitted by phone: These will be added directly to TrackIt, including status
updates and decisions

Check out TrackIt
Go to UHCprovider.com and click Sign In. Check the dropdown menus to make sure your Payer ID and
provider information are correct. Then, access TrackIt from the "Action Required" bar or select TrackIt
from the upper menu within the portal.

Questions?
For help using TrackIt or accessing the UnitedHealthcare Provider Portal, please contact
UnitedHealthcare Web Support at providertechsupport@uhc.com or 866-842-3278, option 1, 7 a.m.–9
p.m. CT, Monday–Friday.

You can also learn more in our TrackIt Interactive Guide and/or by registering for a live training.

PCA-1-22-01524-PO-News_06102022