UnitedHealthcare introduces new tool to help RCMs
UnitedHealthcare has made it easier than ever to manage your clients' work better — as well as all the tax ID numbers (TINS) you manage. This can be especially beneficial for revenue cycle management (RCM) companies.
Discover Document Library Teams View
Document Library, our secure repository within the UnitedHealthcare Provider Portal, lets you view, print and take action on documents. Its new feature, Teams View, takes this efficiency, visibility and collaboration a step further.
Improve your internal workflow
When tasks involve multiple people, Teams View allows each person to seamlessly work together — without leaving the portal. Whether that's assigning a task to a specific person, or giving input or information on a document, you and your team can get work done more efficiently for your clients. Here are a few Teams View capabilities:
See which documents are being worked (and by whom)

Assign tasks to yourself or a teammate

Comment on documents at various stages of the claims and prior authorization processes

Mark the status of documents (unassigned, assigned, completed)
Teams View is available to all users. This means that once an RCM has third-party access to a tax ID number (TIN), the functionality automatically applies for every TIN they work with. There's no need to request to add other accounts.
How to access
In Document Library, you can choose your viewing preference by using the toggle in the top-left corner. Document Library Standard View is the default. To continue in Teams View, slide the toggle. You're able to easily toggle back and forth between each view.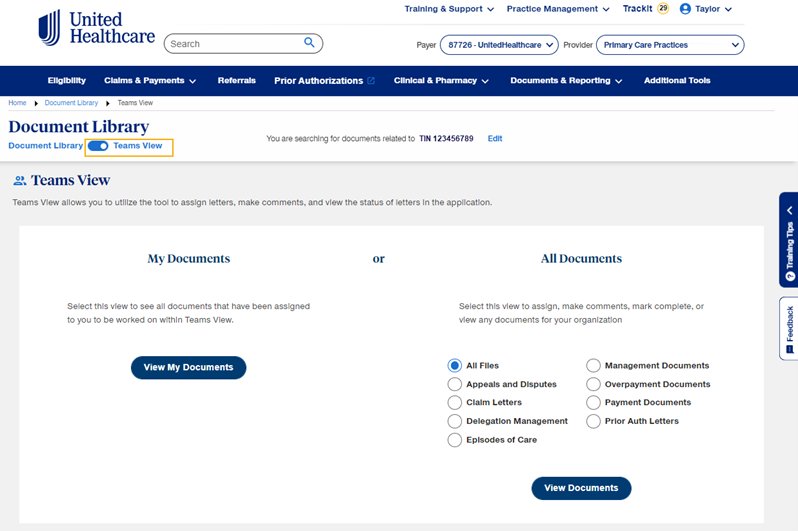 Teams View tips
Email notifications and the TrackIt action required bar alert you when new documents are assigned to you

View documents assigned to you, all files for your organization or documents by claims task (e.g., appeals and disputes, prior authorization letters)

Check Workflow Status to see documents assigned, unassigned and completed

The Actions column allows you to take specific actions, which include viewing document history

View, search, filter, download and print letters for the past 90 days

Search a custom date range for the past 24 months
Please note: Although any user can assign documents, only Administrators or the Primary Access Administrator can reassign documents.
Learn more
See more details about Teams View by checking out the Document Library Teams View interactive guide.