Portal: New look, plus more personalization
Ever wish you could set up the UnitedHealthcare Provider Portal to fit your specific role and preferences? Now you can.
Based on your feedback, we've updated the look and feel of the portal landing page, giving you more information up front and making it easier to navigate. We've also added new features that allow you to personalize how you view details related to your daily work.
What you'll experience
Check out the details below or review the UnitedHealthcare Provider Portal Overview interactive guide.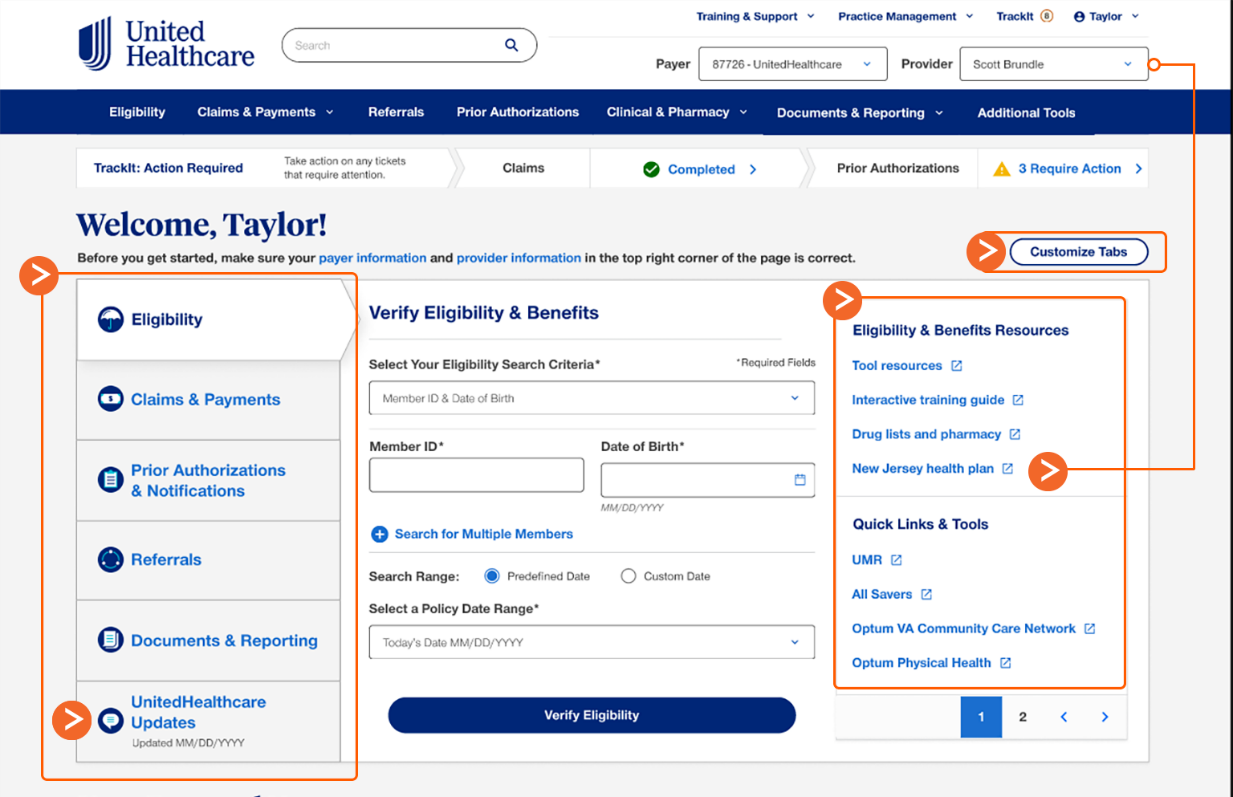 Faster for you:

Access the most common tasks using the new tabs on the left. You can also continue to use the blue menu bar at the top of the page to get to the tools you use.

See important news in UnitedHealthcare Updates

Personalized to you:

Based on the TINs that you're authorized to access, the portal recognizes where you're located. State-specific resources will change as you switch your view among the various health care professionals you support.
Customizable by you:

Change the order of the tabs based on your preference – you can even remove the ones you don't need using Customize Tabs near the top of the page
Sharing a One Healthcare ID? Need an ID?
If your organization is using a common One Healthcare ID among staff members, now is a great time to set one up for each of you. Individual IDs will help you take advantage of the customization features – you won't have to worry about a colleague changing the settings. There's no limit to the number of One Healthcare IDs a practice can have. And, even if you primarily use EDI/API, having a portal account can be helpful for individual requests. If you don't have a One Healthcare ID, visit UHCprovider.com/access to get started. All users accessing the UnitedHealthcare Provider Portal agree to abide by the Privacy Policy and Terms of Use on UHCprovider.com.
Inquiry reference numbers now available
Skip the phone call to Provider Services and head to the portal for a reference number that documents your work. Your reference number is automatically generated by clicking the "Print/Generate a Reference Number" link in 2 portal tools: Eligibility and Benefits and Claims. You can save the information in PDF format or print a copy for your records. For step-by-step instructions, check out the Eligibility and Benefits interactive guide.
Questions?
To access the UnitedHealthcare Provider Portal, go to UHCprovider.com and click Sign In in the upper-right corner. Then log in with your One Healthcare ID and password. For help accessing the portal, please contact UnitedHealthcare Web Support at providertechsupport@uhc.com or 866-842-3278, option 1, 7 a.m.–9 p.m. CT, Monday–Friday.
PCA-1-22-02653-PO-News_8192022