SPOTLIGHT ON!
Michelle Botana

---
As an associate director, tell us a little bit about your areas of responsibility for HBMA.
My main responsibility for HBMA is to support the standing committee structure. Many of my work goals are achieved within the committee structure. My responsibilities include, but are not limited to, providing updated research and information to the committee members, establishing conference call dates and times, compiling and distributing the minutes, facilitating face to face meetings, managing committee annual work plans, and working with the individual committee chairs to provide operational support for achieving the initiatives set out in our strategic plan. I also support the membership by answering member calls, updating membership profiles, processing new membership applications, and directing members to appropriate resources.
As staff support, what committees do you have direct responsibility for?
The committees that I am directly responsible for are the Board of Directors, Awards, Commercial Payor Relations, Ethics & Compliance, EHR, ICD-10, Nominations, Strategic Oversight, Publications, Public Relations, Regional Development and Membership, Survey, and Technology.
Wow! You are responsible for a lot of committees. How are you able to support the needs of all of these committees every month?
Technology plays a huge role in helping me effectively support the needs of each committee. We have a project management and communication tool called Kavi that is the central repository for all committee work. The tool allows committees to share documents with each other and to work on projects together. It keeps all emails in one location and has a roster with contact information readily available.

Each committee operates by a work plan. The work plan contains strategic initiatives along with tactical activities that are driven from the overall strategic plan. Again, I work with each committee chair and member to help keep them on task and make sure deadlines and work products are achieved. In order to make sure all goals are being met, I meet with each committee chair at least monthly to review the work plan and website pages and to create the upcoming agenda.
You have an interesting background in that you came from a little organization called "Disney" before joining HBMA. How has the Disney way carried over to help what you do within HBMA?
Disney is a wonderful company to work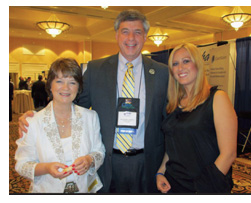 for. I acquired many skills during my many years with Disney, the most important being a focus on customer service. In the Disney language, this is called "guest service." Disney always emphasized that each "cast member" (employee) is to treat each guest as if they were a guest in their own home. In order to accomplish this, everyone had to work as a team, just as everyone here at the national office does.
You obviously deal with a lot of incoming calls to the national office from members. What are the three top things you want every member to know about their membership in HBMA?
One of the most frequently asked questions is about demographics and industry statistics. The most effective way for us to obtain quality demographic information is broad member participation in HBMA surveys. HBMA conducts surveys covering all of this information, and, in turn, gives survey results to all participating members free of charge. Survey result information is available for sale in the HBMA store if a member company decides not to participate. However, it is important to note that high participation in HBMA surveys assures high quality results. HBMA is unique in that the "company" is the member of HBMA. This allows all appropriate staff of a member company to access the many resources available. Finally, I would like to call attention to the HBMA message boards. Broad discussion on a variety of industry topics takes place on the message boards daily. They are a great way to learn and obtain quality answers to industry questions from colleagues.

What is one of the most important aspects of your job?
I would regard membership services to be one of the most important aspects of my job. Each committee chair/member I work with is a volunteer for HBMA, which means they have a "real" job in addition to the time and knowledge donated to HBMA. Ensuring that all committee chairs and members have the materials needed to complete their volunteer work helps to achieve the end goals of the strategic plan. Working with each committee, as well as helping all the members who call each day, allows me to achieve a better insight into the world of medical billing.
Tell us a little about "Michelle" the person. What are some of your personal hobbies or passions?
My passion is running. I know, I know… how many people really love to run? I don't remember when it started, but it is an important part of my life now. I've completed multiple 5Ks, 10Ks, and just recently two half-marathons. One day, I hope to complete a full marathon! I also love to travel. Whether it is a road trip through the states or across the world, I love to experience new cultures and meet new people. My family is also a huge part of my life. We travel together, have random parties "just because," and call each other often.
Advertisement. Click ad for website.