| | |
| --- | --- |
| Public News | |
How to Go Paperless in Five Simple Steps
09/20/2017


By Deirdre Ruttle, Vice President at InstaMed
---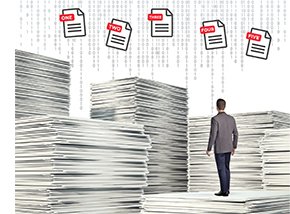 Healthcare is expensive in this country. The heavy reliance on paper products costs the healthcare industry billions annually. Some estimates put that waste as high as $300 billion a year. So, what can be done to eliminate paper from healthcare?
Going paperless is a challenge for organizations of all sizes and types, requiring them to invest in new technology, change workflows, retrain employees – and the list goes on. This is especially true for billing services who are required to manage multiple clients with complex billing requirements.
Change can be hard, yes. But it doesn't have to be. In particular, the processes for healthcare payments are ripe with opportunities to go completely paperless.

Move to a 24/7 World
Make sure all of your clients have a robust online portal where patients can manage all of their healthcare payments and select to receive eStatements. Then, help your clients follow best practices for communicating the link for online payments at every patient touchpoint including office signage, statement messaging and email communications.
Here are a few sample messages to include with the patient portal link:
Stop the paper clutter when you sign up for eStatements.
Go online to pay and easily manage your healthcare bills in our patient portal.

Eliminate Envelopes
It's not you, envelopes, it's us. After a long relationship, it's time to break up with envelopes.
If your organization's goal is to move paper statements and check payments to eStatements and electronic payments, then eliminate processes that encourage the continued use of paper. Remove remittance envelopes from all patient statements and make sure patients see clear instructions on how they can enroll for eStatements and make payments online.

Enable Omnichannel Payments
If you're only offering online or mailed payments as an option to patients, there's a strong chance that you are missing out on some payments. Instead, consider an omnichannel approach that reaches patients where they're already making other payments, such as their bank bill portal or from their smartphone. Offering patients more payment options doesn't mean that you have to sacrifice your commitment to going paperless. There are plenty of channels that give patients additional payment options, yet still promote self-service and automation, such as IVR or payments from a health plan's member portal.

Remove Paper From the Payer Equation
Only 14 percent of providers said that they prefer payments in the form of paper checks and two percent preferred virtual card payments from payers, according to the Trends in Healthcare Payments Sixth Annual Report. The solution is receiving ERA/EFTs from every payer you do business with – no exception. Even if you only receive a few payments a year from the payer, paper checks and EOBs can still contribute to your paper problem.

Make It a Game
How can you add some fun to the workplace and help achieve goals at the same time? Create a contest with an incentive or reward that aligns with your client's corporate policies that encourages "out-of-the-box" thinking when it comes to eliminating paper. Work with your clients to create the framework for the contest, track progress and highlight success. Recognize an "office hero" for the best idea for an organizational change to reduce paper. Celebrate the team with an office lunch after hitting a certain milestone like no paper checks received from payers in 45 days.
What happens when you go paperless?
Overall increase in payments especially online payments.
Decrease in collection costs.
Improve patient satisfaction and higher retention rates for clients.
---

Deirdre Ruttle is Vice President of Marketing at InstaMed. Before joining InstaMed, Deirdre held senior marketing roles at alphaBroder and Collages.net, where she led marketing strategy to drive usage of B2B and B2C ecommerce platforms. Deirdre's experience and expertise include a deep focus in the areas of segmentation strategies, digital marketing and multi-channel marketing campaign development. Deirdre graduated from the College of the Holy Cross with a Bachelor of Arts in English.