| | |
| --- | --- |
| HBMA News | |
Five Standards... One Unbreakable Link
09/16/2016



Five Standards...
One Unbreakable Link

How CHMB Connects with Their Customers
---
CHMB's history of providing great customer service has been a key to our success over the years. But as we grow and change, we need to ensure that our customers' experiences grow along with us. Our goal is to deliver exceptional customer service regardless of changes within the business, but this is not always an easy task.
CHMB has provided technology and business services for healthcare professionals for over 20 years. CHMB works on a national scale with physicians and health systems to successfully manage the revenue cycle and to optimize payment for services provided. Today, more than 4,500 physicians encompassing 45 different medical specialties rely on CHMB for their experience in delivering proven solutions to improve practice profitability and optimize healthcare technology investments.

Based on CHMB's values of people, process, and technology, it is critical that our people are engaged and supportive of our business and our clients' success, especially by providing exceptional customer service.

Throughout the past 20 years, we've learned a great deal about delivering exceptional customer service to our clients. However, as we've continued to grow and evolve our business and bring in new staff to help us, we realized there were varying perceptions of what it means to provide great customer service.

And so our initiative Customer Service: The Unbreakable Link was born – and it has become our way of life!
How Did We Implement, Apply, and Sustain This Initiative?
As with any major change initiative, there is a process to implement and solidify positive change. Various steps were required to execute our company-wide initiative and gain employee commitment.
We started by creating a focus group of individuals from multiple locations and multiple functional areas. This group was charged with creating a uniform set of customer service standards that would apply across the organization. Their goal was to drive a unique set of customer service standards to set us apart from other billing companies. They were the champions and the ones who created the buy-in process for this initiative by being empowered to help define our customer service standards.

After the standards were defined, it was critical to provide comprehensive real-world training to all team members. The mandatory training was held in two sessions.

At the conclusion of the training, each team member personally committed to providing exceptional customer service using our standards. This included a verbal commitment followed by a written customer service agreement. Making a personal commitment makes it real and creates accountability.

Next, we began our ongoing Awareness Campaign. At CHMB, we have over 350 employees based in 19 states and we continue to grow. The campaign continues indefinitely, though the contents and challenges are refreshed to retain interest. Whether we are training for customer service, HIPAA, or something else, a one-time training class does not solidify the new behaviors. Our ongoing Awareness Campaign helps to keep the concepts, behaviors, and expectations top of mind.


Customer Service: The Unbreakable Link Awareness Campaign launched by providing each employee with a CHMB customer service desk calendar. The calendar included information, tips, and reminders of our customer service standards. We wanted our team to use the calendar as a daily reminder of the standards and concepts related to each.

Next came our monthly customer service challenges. These challenges are sent via email to all staff with a question or scenario related to the customer service standards. Every person who replies (whether they have the correct answer or not) is entered into a drawing for gift cards or other rewards. Our challenge participation ranges and we realize that not everyone can participate each time, but we involve upwards of 80 percent of our staff in this way.

Finally, for accountability, we have added the customer service standards into our performance evaluations.

We continue to emphasize the importance of exceptional customer service in our company communications, including our e-newsletter. We recognize that without satisfied customers, we cannot continue our success as individuals and as a company.


Finally, our customer service standards are integrated into our hiring process so we select candidates who have a similar customer service philosophy. To ensure the success of our new employees, each new employee is provided The Unbreakable Link training shortly upon hire. We want their careers with CHMB to start with a keen understanding of the standards and expectations.
Where Did It Begin and How Did We Define Our Standards?
Look around your everyday life and you can easily see that customer service means different things to different people. Some customer service is exceptional and some, frankly, makes you wonder whether the customer or the service exist. Our foundation was based on clearly defining what the customer service standards are at CHMB and how we wanted those standards to be applied in daily interactions with our customers.

The focus group spent a great deal of time and thought around what customer service is, how it should be applied at CHMB, and determined that the same standards of customer service should apply to both internal and external customers. As we began to talk about our customer service experiences, certain themes became apparent and ultimately formed our five standards. The group believed that all standards of customer service were linked with each other, as failure in one standard could result in failure to provide exceptional customer service in another area. This is how we created the concept of The Unbreakable Link.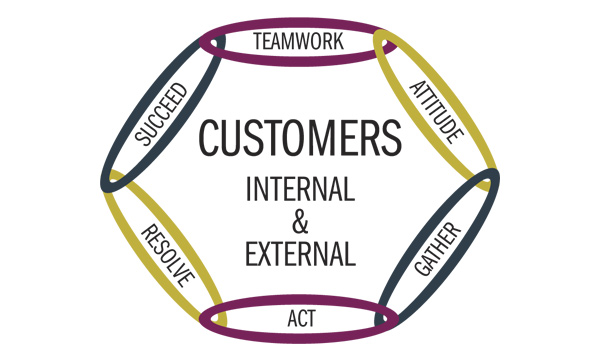 The focus group wanted to take it a step further and provide our employees with tools to create success with challenging customer service issues that we all encounter from time to time. The group felt that practicing exceptional customer service was important, but that there will still be times when our customers may be dissatisfied. Learning how to diffuse and turn around those situations was important to the overall success of our customer service program.
The focus group launched The Unbreakable Link, with five customer service standards:
Standard #1: Teamwork
This standard centers around working together to service our internal and external customers with courtesy and respect for diversity, creating solid partnerships, and exhibiting helpfulness, all while demonstrating pride in ourselves and CHMB.

Standard #2: Attitude
Attitude is a decision and we all make that choice every minute of every day. Our standard requires that we each demonstrate a positive frame of mind in our interactions with our internal and external customers and that this positive approach shines through in our communications.

Standard #3: Gather Information
Gathering the right information is key to providing the best service. We can only meet the needs of our customers if we understand what their needs are. Gathering information requires having a can-do approach, listening attentively, asking effective questions to ensure clarity, and verifying information for mutual understanding.

Standard #4: Act for Positive Outcomes
Our customers need and deserve positive outcomes. We provide these by:
Being knowledgeable and resourceful;

Giving timely responses and status updates for those items that require a longer timeframe or further research;

Explaining what is being done to help;

Correcting errors (they do happen) and correcting the root cause of the error so that it doesn't continue; and

Always under-promise and over-deliver!
Standard #5: Resolve for Customer Retention
Even when we excel at serving our internal and external customers, problems can occur. How we resolve those problems can have a big impact on our customers' experiences. There are seven key steps to resolving issues for customer retention:
Listen intently; you can't help if you don't understand the issue.

Thank the customer for the opportunity to address the issue. We are lucky they told us about the issue so we have a chance to resolve it.

Apologize for the experience they had; even if you didn't create it, a sincere apology for the situation goes a long way toward diffusing the situation.

Seek the BEST solution; we know we can't always do exactly what the other person wants, but there are options. Choosing the solution that brings about a positive outcome is the best approach.

Reach agreement; your best intentions are great, but delivering the needed resolution is critical. When you and your customer agree on the solution and you follow through, you have likely turned the situation around.

Take quick action; even if you can't resolve it immediately, your customer will respond more positively if they believe you made them a priority. Giving them feedback and progress reports demonstrates to them that they are important.

Follow up; no one wants to feel forgotten so depending on the situation, you may need to circle back to your customer to check in. That extra touch will create a memorable customer service experience.
Our last link in The Unbreakable Link is to SUCCEED!

At times, customer service situations are difficult and can involve emotions and dissatisfied customers. Succeeding in those situations is even more important but takes special care. In emotionally charged situations, handling the emotion first is a key step before we can apply our knowledge to solve the issue.

Start by acknowledging the emotions of the customer with understanding, empathy, and concern. We have all been there and can understand what a frustrating customer service situation is like. Diffusing the emotions begins by acknowledging you understand their frustration, are sorry that the situation happened, and confirming your desire to help. It also requires keen listening and communication skills to bring the customer to a place where they feel reassured and confident that you can and will work with them to make it right. In the moment, remain focused on the customer's concerns and their need to be heard.

Remain calm and speak calmly. Zone in, not out – asking good, smart, and on-task questions. Finally, own the issue and fix it, with the best solution possible for a positive outcome. No matter what, don't take it personally and stay focused on the customer!
The Unbreakable Link: Has it Made a Difference at CHMB?
You bet; we hear people talking about it and providing great customer service. Though our customer service has always been strong, our staff is receiving compliments from both our clients and patients. Our teamwork has been enhanced bringing about further innovations and record performance for our external clients. Additionally, our internal customer service creates a great place to work. Exceptional customer service is truly the link to success at all levels!
---

Phebe Jones is the director of human resources and HIPAA privacy officer for CHMB. She spent the last 15 years of her career prior to CHMB in healthcare HR executive roles, including a FQHC, pediatric medical group, MSO, and a large pediatric hospital. Jones has earned an MBA and is a senior professional of HR-California (SPHR-CA), certified HIPAA Privacy Expert (CHPE), Society for HR Management Senior Certified Professional (SHRM-SCP), and Certified Wellness Program Coordinator (CWPC). Her focus is creating workplaces where individuals win and the organization thrives.