| | |
| --- | --- |
| Public News | |
Claims vs. Registry Reporting Options for Merit-Based Incentive Programs
03/13/2017




Claims vs. Registry Reporting Options for Merit-Based Incentive Programs
An Overview to Help Your Clients Choose the Best Option for Them
By the MIPS Committee
---
Informed choices on the best reporting mechanisms for individual providers and groups are key steps in successful reporting. Different criteria apply to the various reporting choices, and one method may be more successful than another depending on the unique characteristics of the reporting entity or individual. Although "pick your pace" applies to reporting year 2017, this is not a long-term solution. It is also important to understand that some physicians and groups have experienced unexpected problems with each of the historical reporting options. Some basic information may help you help your clients choose the best option for them.

Data Submission Options for Merit-Based Incentive Programs (MIPS)
Claims – The various Quality Physician Payment (QPP) codes must be submitted on the initial Medicare and Railroad Medicare (primary or secondary payor) claim in conjunction with applicable billing codes. Corrected claims to add or modify quality codes are not permitted.

Qualified Clinical Data Registry (QCDR) – A specialty specific registry developed by various specialty organizations to allow groups and individuals to populate their database with specific quality measures applicable to that specialty. All patients, regardless of insurance, are reported to the QCDR. For specialties that include both technical and professional components, both report to the QCDR.

Qualified Registry – A CMS-approved vendor with the ability to submit (QPP) data via a batch end-of-the-year submission. A significant change in 2017 is that CMS requires reporting for all patients and payors under MIPS.

HR – Electronic Health Record or Electronic Medical Record data extraction and reporting.
Options for Reporting by Provider Type
All providers must choose whether to report individually or as part of a group. Submitting individually means that any payment adjustment is based solely on the individual's performance. For practices that report as a group, there is a single payment adjustment based on the group's performance. An important consideration is that submitting as a group precludes the use of claims as a reporting mechanism.
Submission Timeframe (Claims vs. Registry)
QPP Codes submitted via the claims submission method must be submitted on the initial claim. Errors found after the fact cannot be fixed.
QPP codes submitted via the registry submission methods are submitted at the end of the calendar reporting year. Changes to the quality data can be made by the provider, group, and/or at the registry level, up to the end-of-the-year submission.
QPP Measures (Claims vs. Registry)
Some QPP measures can only be reported by registries or QCDR.
Some QPP measures can only be reported through claims-based reporting.
Some QPP measures may be reported by claims or registry.
There can be substantive differences in reporting via the options available. It is crucial to ensure that both you and your clients have chosen the correct number of measures in the required categories to be successful. The categories that determine a MIPS score are: quality, resource use (cost), clinical practice improvement activities, and advancing care information (replaces EHR and Meaningful Use). MIPS is more complex than PQRS reporting. It is strongly recommended that the CMS tools and/or other vetted scoring methodologies for adequacy of measure selection be relied upon in choosing what to report. The CMS measures and required categories can be found at https://qpp.cms.gov/. You can use this tool to filter by specialty, data submission method (Registry, Claims-Based), as well as to verify that the measures chosen meet the required quality categories.
Online Calculators
HBMA has identified a few online calculators created for use by sophisticated providers or administrators to estimate positive or negative adjustments to Medicare allowable amounts. Unfortunately, the calculators we reviewed fall short of helping a practice navigate this complex program in a way that leads them to a successful outcome. The HBMA MIPS Committee is working with one of our member companies who has created a draft version of a more visually appealing MIPS Payment Adjustment Estimator. Further enhancements are being evaluated and discussed to expand this MIPS estimator to better support the needs of our members and our member clients.
Measure Applicability Validation Process (MAV) (Claims vs. Registry)
The MAV is basically a CMS set of black-box logic that determines whether a group that has submitted less than the minimum required measures has submitted all applicable measures for that group/specialty. The rules to determine whether you pass or fail are different for claims vs. registry. The reasons relate to different MAV algorithmic logic.

It is imperative to understand the logic relied upon in the MAV process, and whether it is an accurate or flawed analysis of the group's practice and applicable quality measures. Negative determinations may require appeals and the need to escalate the appeal is not uncommon. It has been HBMA member experience that single specialty and subspecialty practices and/or practices with limited patient types have more frequently been found to be unsuccessful by MAV analysis.
Summary for Data Submissions for MIPS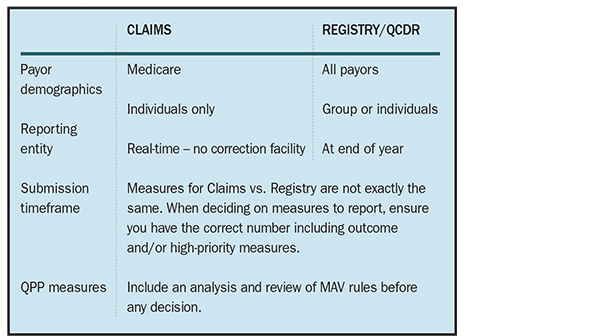 QPP Resources
There are several steps your organization can take to prepare for success in CMS' Quality Payment Program (QPP):
Educate your organization on operational, reputational, and financial impacts of the program.
Gain buy-in from the executive team.
Create MIPS organizational structure.
Identify a MIPS physician champion.
Identify specific people, processes, and technology to support.
Prepare stakeholders for active involvement.
Keep informed – learn everything you can.
Read the MACRA Final Rule.
Review educational materials and QPP/MIPS webinars.
Obtain guidance from specialty and professional societies, such as HBMA.
There is a plethora of resources and educational materials available to support your QPP rollout. These resources fall into three main categories: Centers for Medicare and Medicaid Services (CMS), Specialty Societies, and HIT Vendors. The following are a subset of such resources that should prove helpful in support of a successful QPP implementation plan: